Pregnant in NYC in Aug. with in-laws? It's interesting.
The city is as crazy and alive as I remember it. The Duke and I arrived a day before the rest of his family. We went to Soho, Little Italy, Chinatown, and. . .
School Products
- Oh yes, there was damage to both my feet and my bank account. (I'm going to make you wait to see the fiber goodnesss. It deserves it's own post.)
We met the family for dinner and a show, The Lion King. It was every bit as visually stunning as everyone claims. The costuming is unbelivable. It was worth the pain that followed from sitting for three hours.
Next day was a Bike-Taxi tour through Central Park. We were going to take a carriage ride, but we were so glad the bike guide got to us first. This was so much fun and so entertaining, a great way to see the park.
Here's the Duke, his sister, and I at the Bethesda Terrace.
And "Imagine" at Strawberry Fields. Is that a sock in the photo? Why yes it is!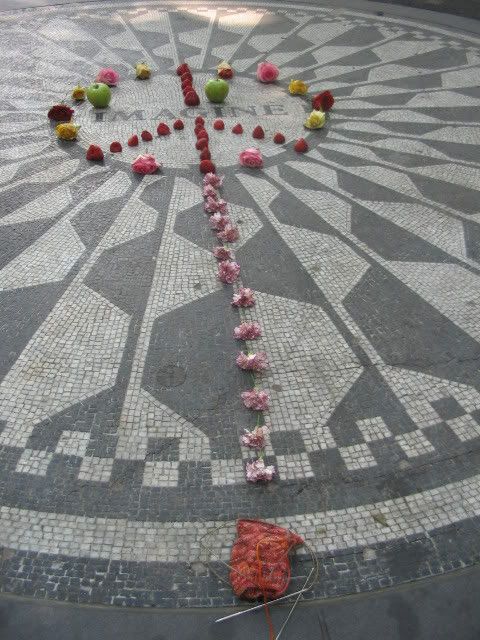 Next, off the the Bronxs, and Yankee's Stadium. We arrived just in time to see Alex Rodriguez hit his's 500th home run out of the stadium. My thoughts upon witnessing baseball history in the making. . . "It's too bad that I am here taking up this seat when someone who really cares about this could be here instead." Oh well. The Duke's Dad loves baseball and it was a great experience for him. The heat and humidity finally got the better of me at the top of the 5th and I grabbed a train back to the hotel for a much needed nap. I met up with the family again later that night in Times Square for some dinner and general tourist like activities.
Today was spent at The Met. My darling Duke pushed me around in a wheel chair as my feet are starting to look like sausages. Ahhh pregnancy. How I hate thee. The family is out now at the Empire State Building. I've been. . . I'm resting.
The Duke and I on the roof of The Met. Good grief I look like a walrus!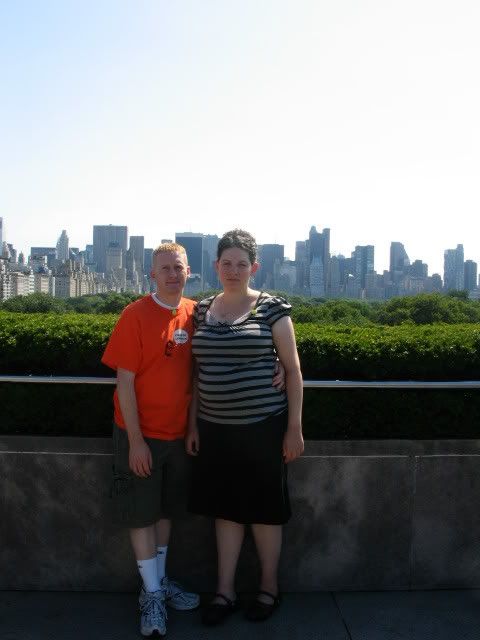 The embodiment of womanhood? Well, she's not pregnant. I think I win.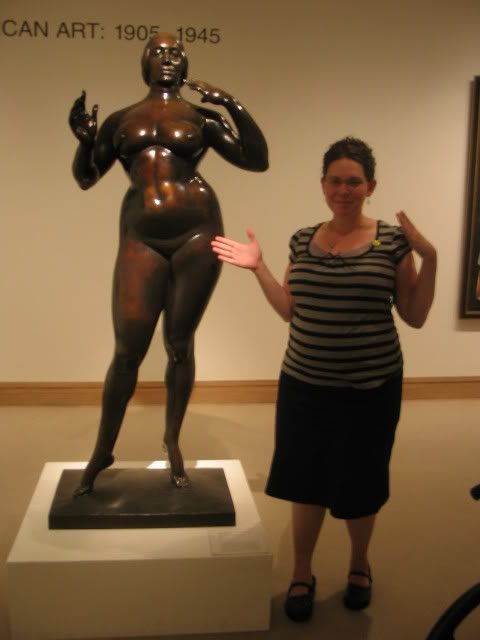 More to come. . .