The Duke and I decided to take off to Portland for the weekend. We were in dire need of a little down time.
Before we left I treated myself (with knitter's credit of course) to a couple of
Grafton Fiber's
Batts, one is Cooridale, the other Wensleydale. I can't wait to try them out.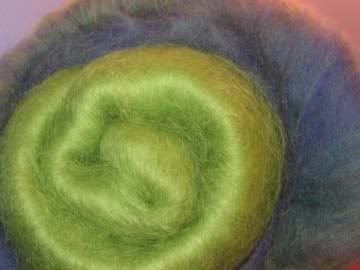 I got more knitting done this weekend than I have in the last three weeks.
I was part way through the first one of these, and now there are two. I love them. They were originally intended to be socks, but about 2 inches down the first one, I realized I hadn't cast on enough stitches. (How does that happen?) Not to fear, I have itty bitty wrists and smallish hands. Fingerless mitts to the rescue! They are in my handdyed sock yarn. I think I originally called the colorway "St. George."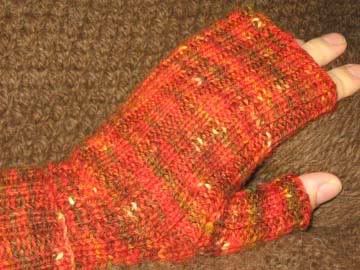 I started and finished this, which looks terrible before it's blocked, so you just get a pretty fabric shot until then. The yarn in Jitterbug by Colinette, doubled.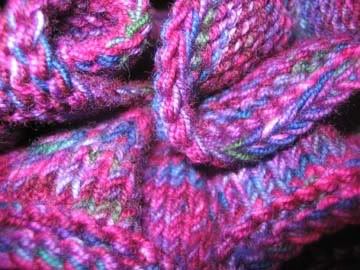 I also started my next pair of socks (seeing as the last pair turned out to be mitts instead.)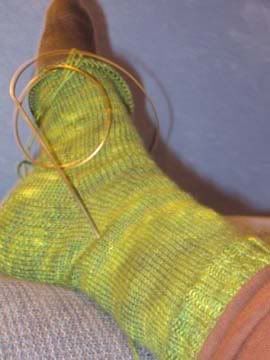 In addition to all this wonderful knitting time, I got a little fun shopping in.
I visited
Knit-Purl
, my favorite Portland LYS. If you are ever in Portland you must go, and if you never make it to Portland, good thing for you they have an awsome website. Check it out, and be sure to drool over their own line of yarns,
Shibuiknits
.
I love the silk puff. I had a hard time walking away from it. Hilltop is awaiting our own order of their sock yarns, which Kalani was kind enough to inform me we can expect in the next 2-3 weeks. YIPPEE
So what did I pick up?
This- sock yarn and matching roving from Fleece Artist. It is intended to be a kit for thrumbed socks, but I won't be using it that way. I'm not too interested in thrumbing.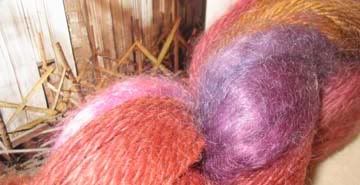 I also got another cone of this. I got a cone of it last year and Logan got ahold of it and killed about half of it before I got to him (little bugger!) I couldn't figure out what I was going to do with such a small amount. I decided that I would just buy more in a contrasting color. I have an idea of what it might become.
We also paide a visit to
Powell's Books
, my very first visit. Heavens to Betsy this place is HUGE! We were there for an hour and a half (not nearly enought time.) I didn't even make it all the way through one room and there are 7 very large rooms. You must go, it is, just as they claim, a book lover's paradise. I got these.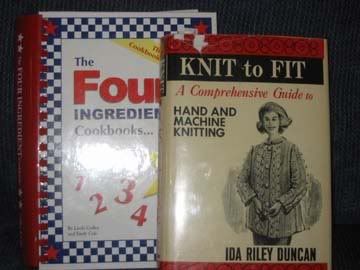 I'll be sharing out of both of them. The
Knit to Fit
is a hysterically charming vintage (early 60's) knitting book with some very useful info in it as well. The other is just a cheap cook book that looks like it has some good fast dinners in it. It has over 700 recipes in it and all of them only have 4 ingredients. I hope it has an index. ***looking*** It does.
Last but not least, I spet a great deal of time grooming Maggie, a long overdue chore. Have you ever wondered how much fur comes off of a Wire-haired Fox Terrier from stripping HALF of her body, and all this after all ready spending severl hours pulling out matts? You can see why some spinners might get it in their heads to spin their dog's fur. No, I will not be spinning this. It smells like a dirty dog!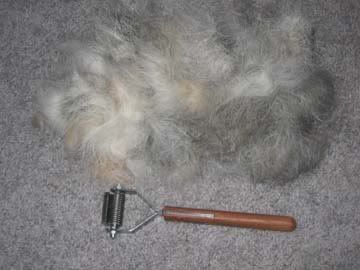 And now we are home, and tomorrow we return to real life. Sigh. At least the Duke gets paid to go to work this week, and then, he starts his second to last rotations. We are gearing up for a serious CELEBRATION!