Here it is. . . the first yarn to come off of the new spinning wheel (who needs a new name, BTW, any suggestions?)
It's Superwash merino (I think) that I dyed so long ago that I don't remember when it was. 160 yds, double ply, light worsted.
And the wheel spins like a dream.
In other news- it is berry season here in the PNW. I haven't been out picking my own yet, but that will come soon, I think. I was inspired by
Beep and Bop
and
Accident Prone Left Hander
to take advantage of our berry berry good summer and make some jam.
However, unlike both of them, I am unwilling to cook anything in my second story, non-air conditioned kitchen, so freezer jam it is. It isn't as pretty to photograph, and I don't give it awesome names (K. I'll leave that up to you if you want) but boy does it taste good!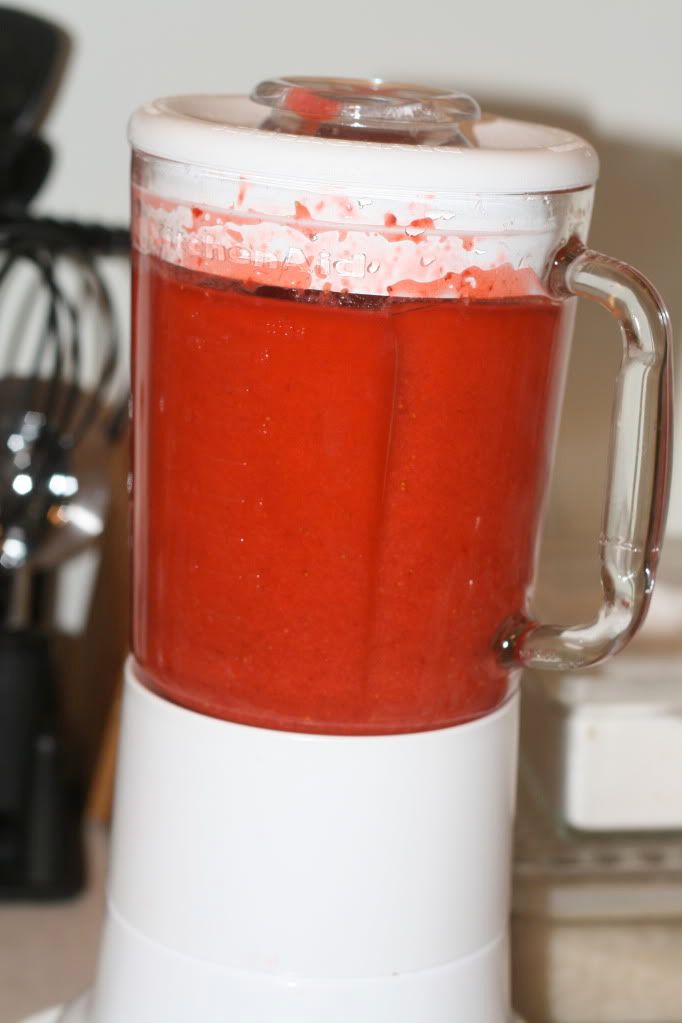 Oh, and just because I was living in the dark for so long about freezer jam, let me fill any of you who don't know in on a little secret. It is SUPER easy to make. I make it in my blender, as you can see.
1. Blend up fruit.
2. Add sugar and pectin
3. Blend for 1.5 min more
4. Put in freezable containers
5. Let sit for 1/2 hour
6. Throw it in the freezer (or eat it- it's ready to go!)
No cooking involved- which is great for our current uncomfortably hot days. (PS- our next house is going to have AC- I don't care if we only need it for a month out of the year.)
Also, it has a lot less sugar in it that most other jam recipes. You add 1.5 cups to 4 cups of fruit. The Duke and I really like this because we don't like very sweet jam.
There you go, easy as pie (which is a silly saying, because pie can be pretty hard to make.)