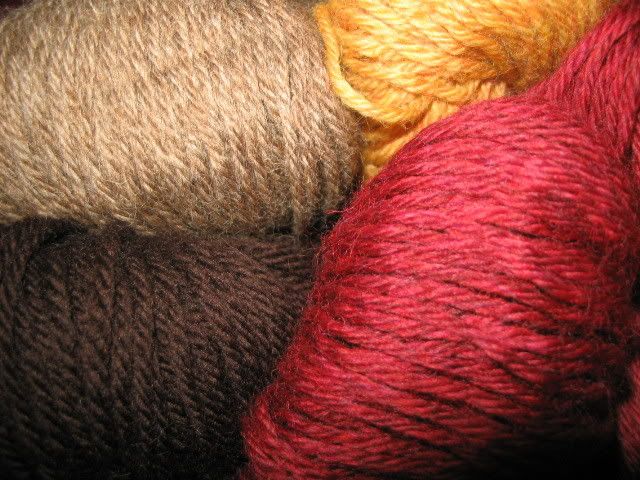 Our family has been in this business for decades. We know what it takes to stay in the game. You'll find our family in nearly every yarn store in the US, and many other parts of the world. Not many families out there can say that now a-days.
We've quietly listened to the flashy novelty yarns, with all their fluff and sparkle tell the world how wonderful they are, proclaiming loudly that they only needed a pair of needles and a little garter stitch to reach maximum admiration value. (That's not really something to brag about if you ask me, but I just keep my opinion to myself.) We watch from time to time as the new knitters come in and buy them up one or two balls at a time. We often hear back from family "in the stash" that these novelty divas are devastated when they realize that they have been separated forever from their glitzy friends. I guess it's not much of a party if there is only one star.
We've also overheard the ohhs and ahhs that almost sound drug induced when a new luxury fiber arrives in a shop. Often they look in our direction with distain at first; after all, our family is just plain hard working wool. As knitters pet and fondle the luxury fiber of the moment, cashmere, baby alpaca, silk, we patiently wait. Those yarns are always so shocked when, more often than not, the knitters replace them to their display baskets after seeing their price tag, and hurry over to where our family resides. There are very few jackets or sweaters knit out of cashmere, and no knitter would make felt slippers from limited edition baby alpaca.
Us, well at first glance we may not be much to look at. Sure we have great colors and a lot of them, but our simple 4 ply wool, put up in hanks is nothing to write home about. It isn't until we get on the needles that our true worth is revealed.
You can strand us together, we will hold tight. You can twist us into cable after cable with never a hint of distress. We will lie as flat and perfect in stockinet stitch as the undisturbed snow, or give us some texture and we will stand out strong with all the crispness of a solider. If the needles slip or the pattern is bad, rip us out of those stitches. We can take it, time and time again. Our family has done it all from felt to lace and everything in between. We have a long and proud tradition of excellence, those high-brow yarns will come and go, but we will always be here. The knitting world knows they can count on our strength and stability, and that- that is something worth teaching your young knitters.
*Remember I will choose a random commenter to send a little taste of Yarnnation too.