That would be how long it has been since I last posted. Here's why.
1. Needed to get ready for 1 week long vacation with 8.5 month old.
2. Throwing a baby shower for
Lucy
(good thing too, he's here and he's adorable)
3. My house has to be clean for baby shower.
4. I need to make a giant mess of my house in order to get ready for trip
4.5 Go Crazy
5. Clean house
6. Leave for vacation about 6 hours late (we were driving)
7. 2 hours from home realized that I brought my camera, I brought my lenses, I forgot my fully charged battery on the charger.
7.5 Purse lips in frustration at self
8. Spend 1.5 hours on the phone determining that there is not a camera shop within an hours drive of Seaside, OR.
8.5 Pout and declare that I will move there and open a camera shop.
9. Consider not taking Little Sir on his first outing to the beach because I can't document it.
10. Snap a few shots with a hijacked camera (thanks S.)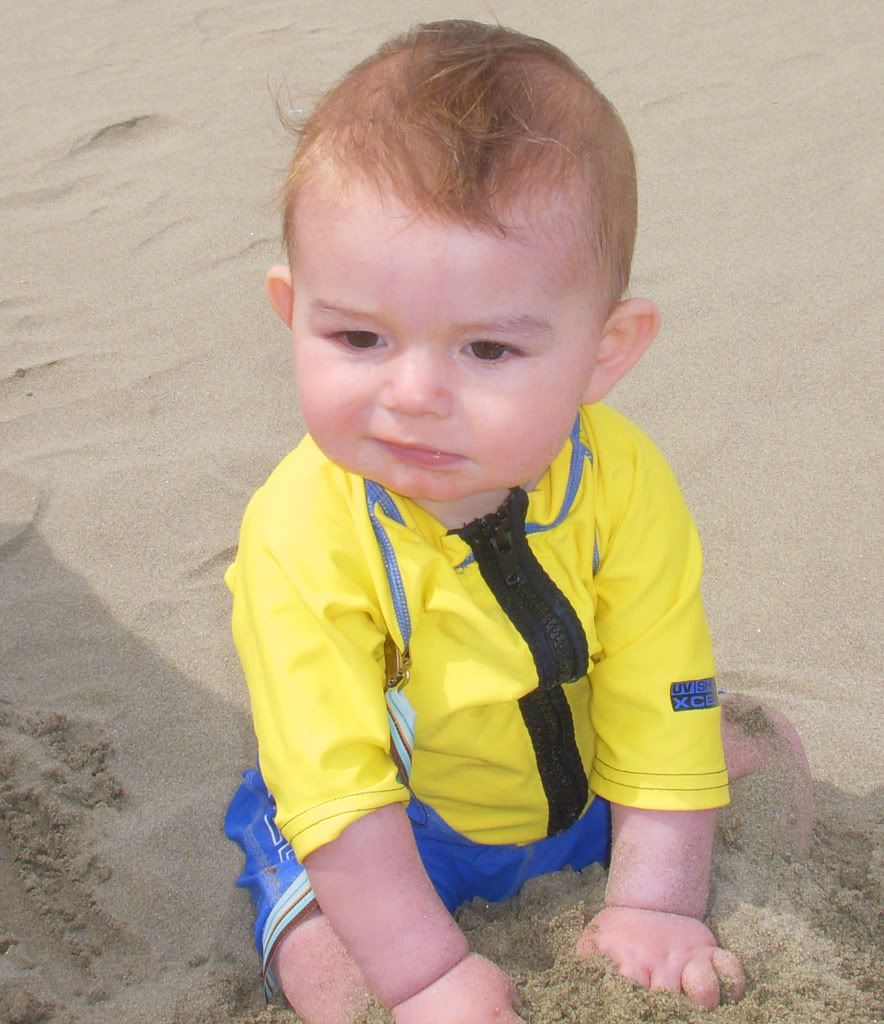 I like sand mama. . . I think.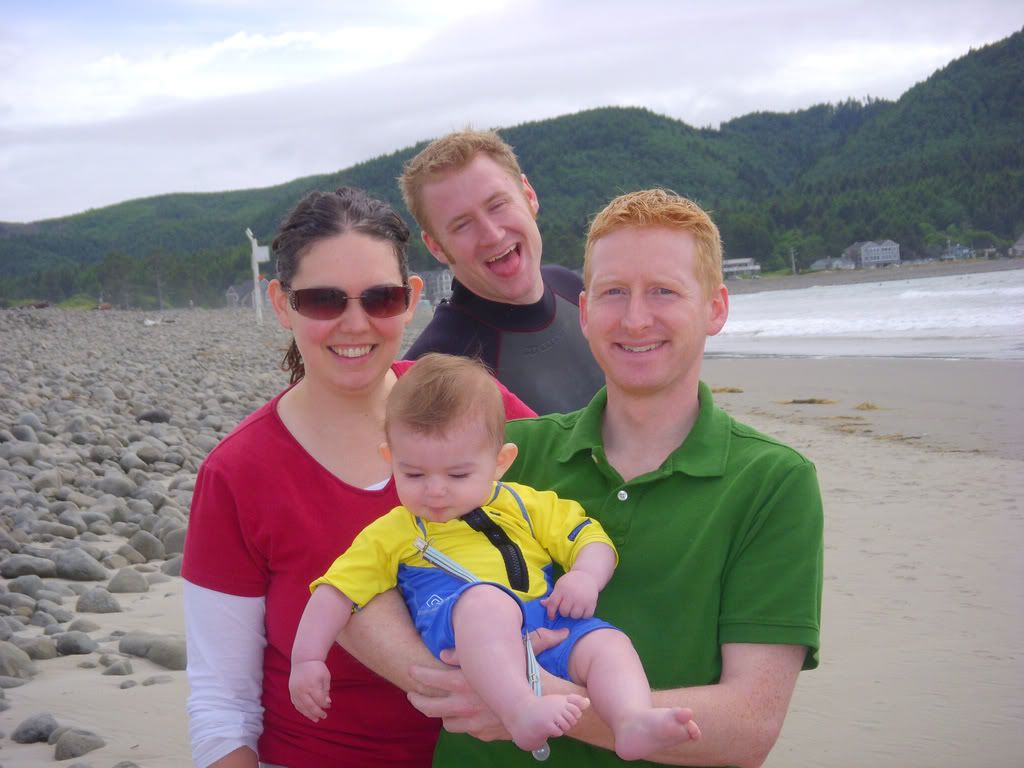 We don't know the extra guy in the photo, he just jumped in. No, No, that's the Duke's Cousin, T. His fiance'e was the photographer that actually showed up ready to shoot. (Oh- and he gave her her ring while they were there- congrats you two!)
11. Enjoy the rest of the vacation (with short periodic sulky moments when I want my camera.)
12. Realize that baby is off his schedule, but not too bad.
13. Save all homework for the day after returning home- they day of class.
14. Send baby and husband away to watch cousin play basket ball.
15. Go to class.
16. Come home at 9:30pm and wonder where baby and husband are.
17. Give husband dirty looks for keeping baby out too late when his schedule is all ready off.
18. Get mastitis.
19. Suffer.
20. Think that you really should go to the doctor.
20.5. Don't
20.7. Entertain husband's family at home.
20.8. Don't care that they house is a wreck- feeling too crappy from mastitis to care about much.
21. Feel more or less better two days later.
22. Go with husband and baby to watch cousin play more basketball.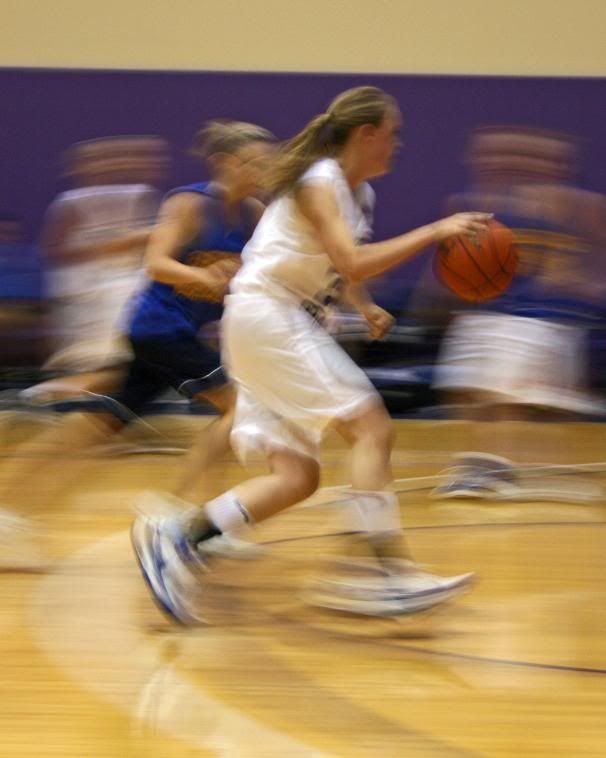 Cool photo, huh!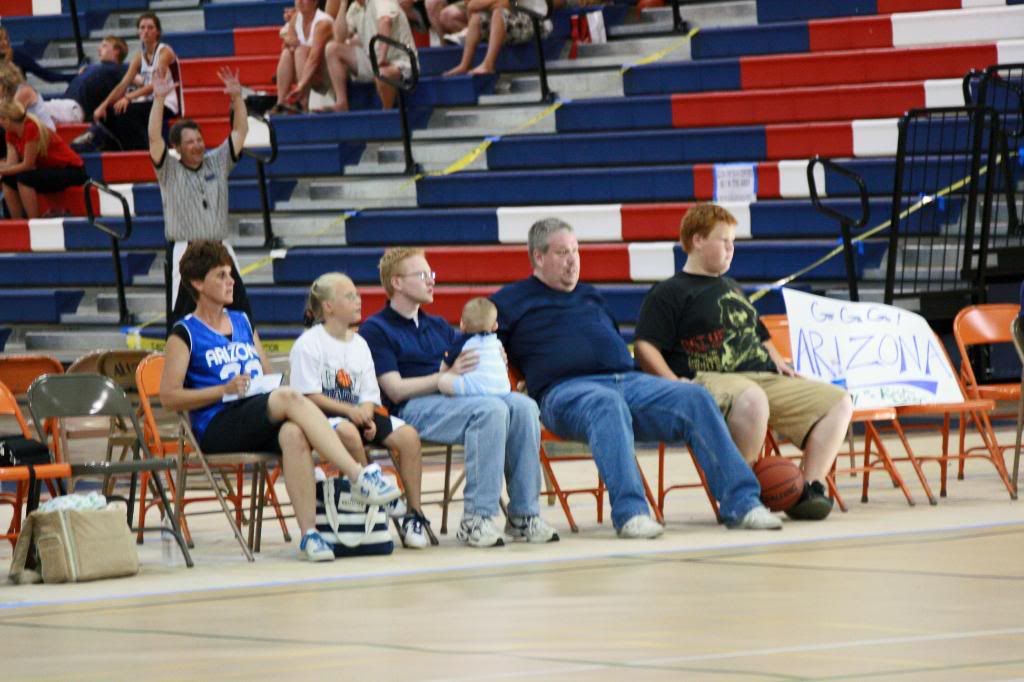 The spectators- very important to any game. Hey, at least we know how to support our team. We even brought our own mascot! (He's the cute little one.)
23. Stay out WAY too late again.
24. Go through lots of guilt about keeping baby out too late and making him grumpy.
25. Spend the entire next day diligently trying to correct previous days' parenting mistakes.
26. Think it's going pretty well.
27. Get knocked off the parenting pride step when baby won't go to sleep until 10:30.
28. In the midst of baby not sleeping take part in volunteer's conference call for
FSA conference
.
Yes, it has been a tough re-entry after vacation, but the vacation was great (minus the forgotten camera battery.) I love the Oregon Coast. It's beautiful, and peaceful and somehow it's easier to breath there.
Little Sir got to meet several of his family members for the first time and had lots of smiles, cuddles, and general adorableness for everyone.
I bought yarn. I made it to four yarn stores. I didn't really buy anything amazing, but I have some fun projects planned. A new family tradition is in the works (and it revolves around yarn, what could be better?) I will share more later.
To keep you in good spirits, though, I'll show a little of what I found in
Astoria (Custom Threads)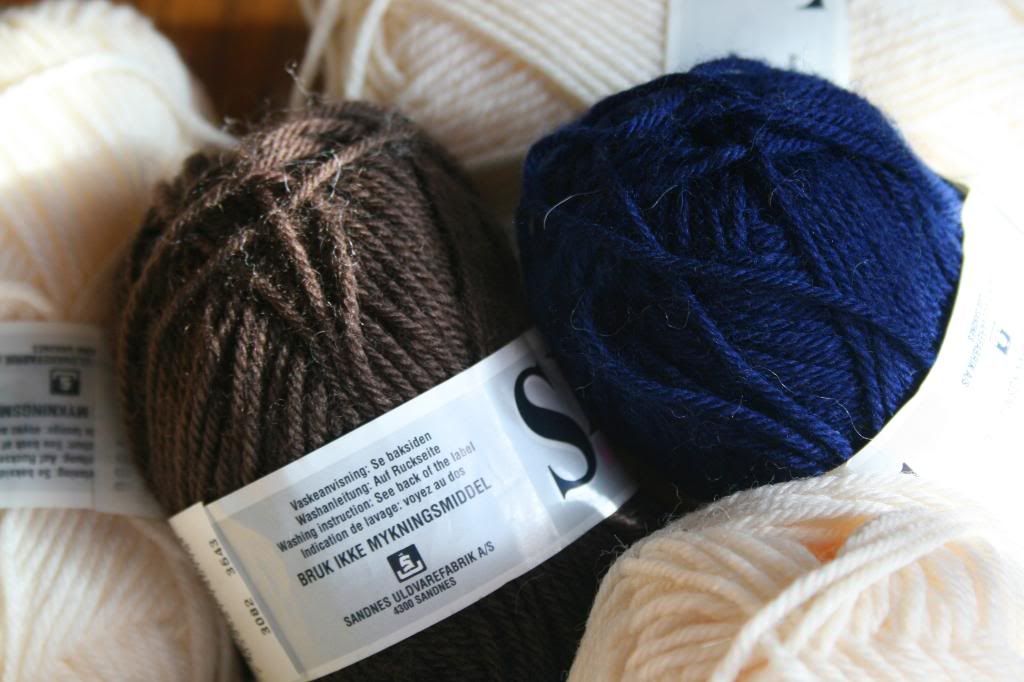 "Smart Wool" destined to become a vest for Little Sir.
and
Raymond (A Willapa Connection)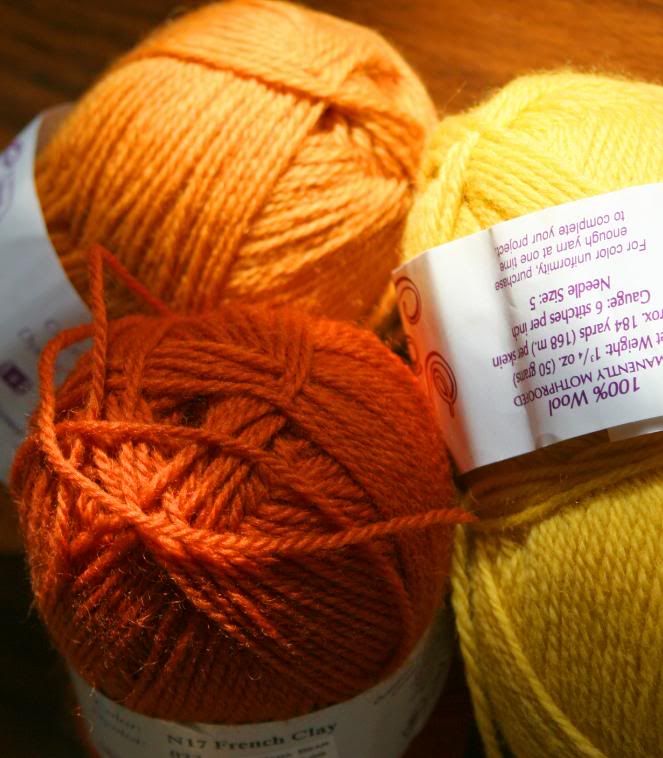 Brown Sheep's Nature Spun Sport thinking it wants to be some fingerless gloves.
Oh yes, and one more vacation tradition to share.
The Duke and I always buy more salt water taffy than two people should ever eat in a lifetime, let alone the couple of weeks before it goes stale.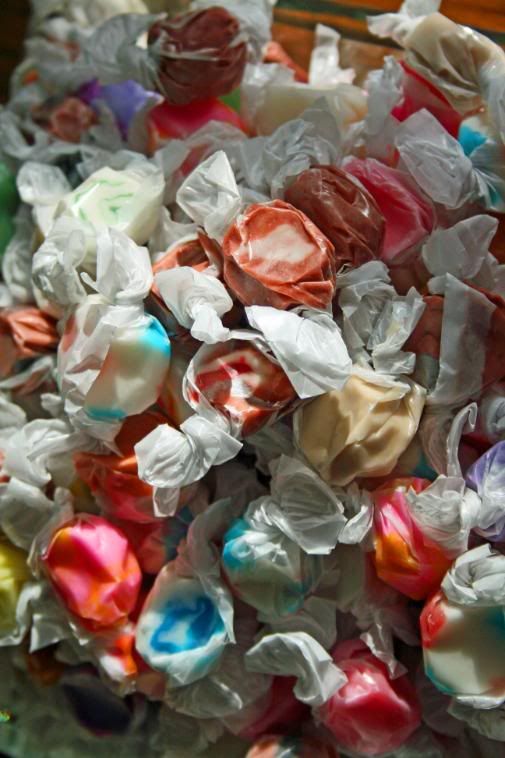 Come on over and get yourself some. We have lots to share.