Thank you all for your kind comments about the latest Yarn of Yarnnation. I know it was kind of long, my imagination gets carried away some times. Remember to leave a comment on the
last part
to be eligible to have the happy fiber come live either in your stash closet or your coat closet (as a hat or fingerless gloves or something.)
Now, as far as newcomers to the stash, some of you might know that
The Queen
,
The Princess
, PBTB, and "W" just got back from Oregon Flock and Fiber Festival. It wasn't the best trip, as The Princess' gall bladder decided to malfunction big time while we were there, but yarn and fiber were still procured. I was very restrained, though, the closet is getting a little crowded.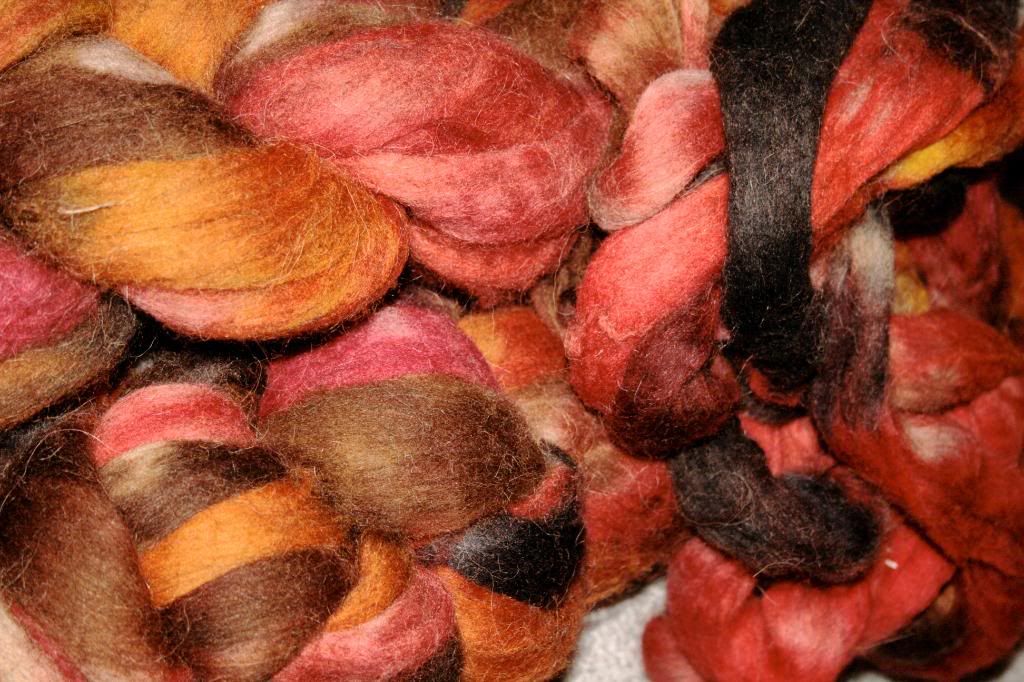 This is Sarah Anderson's Great Balls of Fiber- enough for a long sweater. Superwash Merino/Alpaca.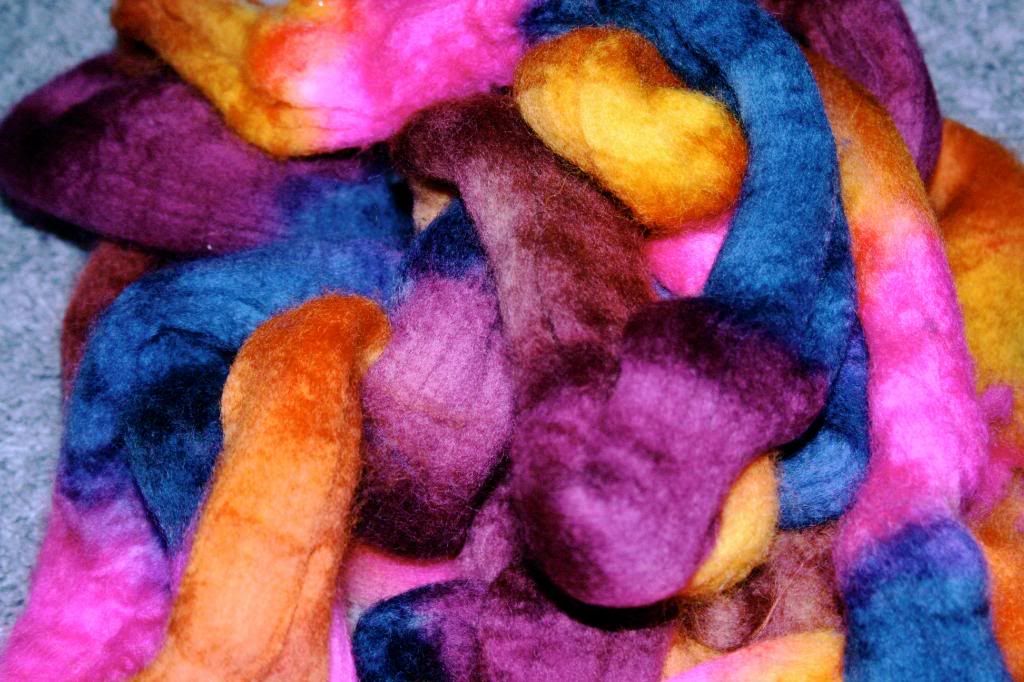 This is what the Princess picked out for me to spin for her. It's also the Merino/Alpaca. I am spinning it into a Navajo plied sock yarn for her.
I was a little dissappointed with Sarah Anderson's selection this year. Not that it wasn't all beautiful, there just wasn't very much of it. I asked her about it and she said that she just hadn't had the time and the weather hadn't cooperated. Ah well, I can't really complain, The Queen and I did a great deal of damage to both our wallets and her inventory!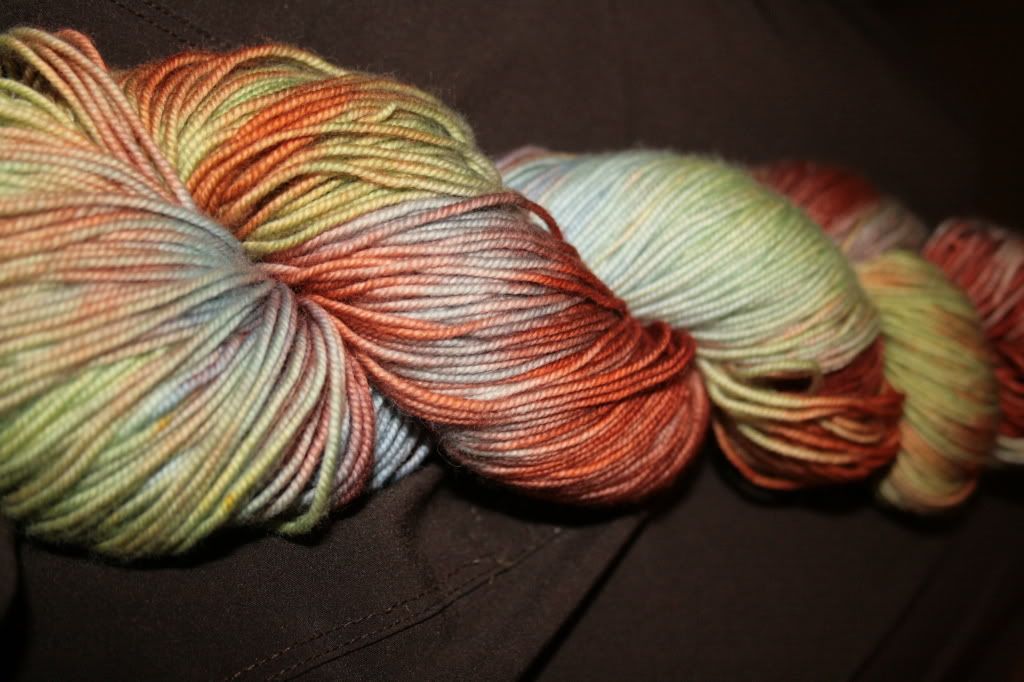 If you want to see a WHOLE LOT of Socks that Rock, visit the
Queen's blog
in the next few days. I found her holding dozens of skeins of yarn with a wild, crazed look in her eyes. We had to do some deep breathing to bring her back to her senses. The smell of vinegar can do that, you know. Next time we'll remember the smelling salts.
I was wooed by this one "rare gem" skein. I didn't intend on buying any yarn, but how could I resist this? I mean, really!
And the reason I had no intention of buying yarn. Oh that would have been the previous day's trip to this enchanted little place.
Here you choose strands of any color and fiber your hearts desire and have it spun together onto a cone, ready for use!
If you are a knitter, crocheter, or weaver I suggest you visit as soon as possible. In the mean time, visit their
website
, where they sell pre-spun cones.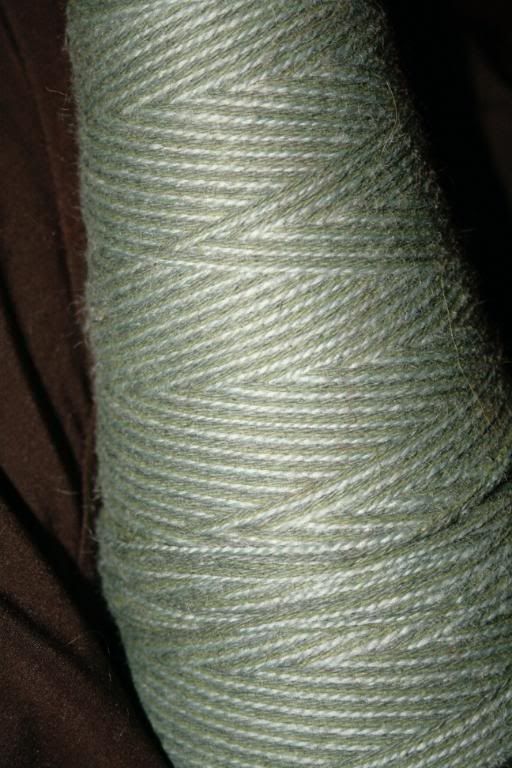 This is a wool/cotton blend that will be a sweater for Little Sir.
This is a wool/nylon blend in a sock weight.
Mohair/wool in lace weight.
Yes, there will be return visits!
Now before I sign off, I want to be sure that you all visit
Princess P.
to wish her a speedy recovery and also to read all about
the BEST NEWS OF THE YEAR!
Last but not least, you can also visit the
adoption blog
to see pictures of the adorable cousins together.