I'm not really a person who decorates for the different holidays and seasons. It's not that I don't like seasonal decorations, my Mom always had cute decorations for the holidays. I just have a hard enough time keeping my house dusted and vacuumed. I don't want my valentines decorations still up at Easter, and I know that is what would happen, so my holiday/ seasonal decorations are minimal, very minimal.
Little Sir is a very passionate and excited child, though. Last year after he went to bed on "his" Christmas Eve I felt a little guilty so I threw up a garland, a strand of lights and a few ornaments. (We celebrate early because we usually spend Christmas in Utah with family.) He was in awe, I think it is the only time I've ever seen him (even briefly) demonstrate reverence. He also LOVES pumpkins because of Halloween, and last year we didn't even carve them, we just put them out on our front porch.
So, I decided that I didn't need to make myself crazy, but I could still brighten things up a bit by at least changing out my wreath. This means I either have to buy or make a wreath for every season except Christmas. We always have an evergreen wreath at Christmas. I LOVE the smell of the branches, and it is easy, so it's a tradition I embrace.
OK, so fall/ autumn/ harvest. . .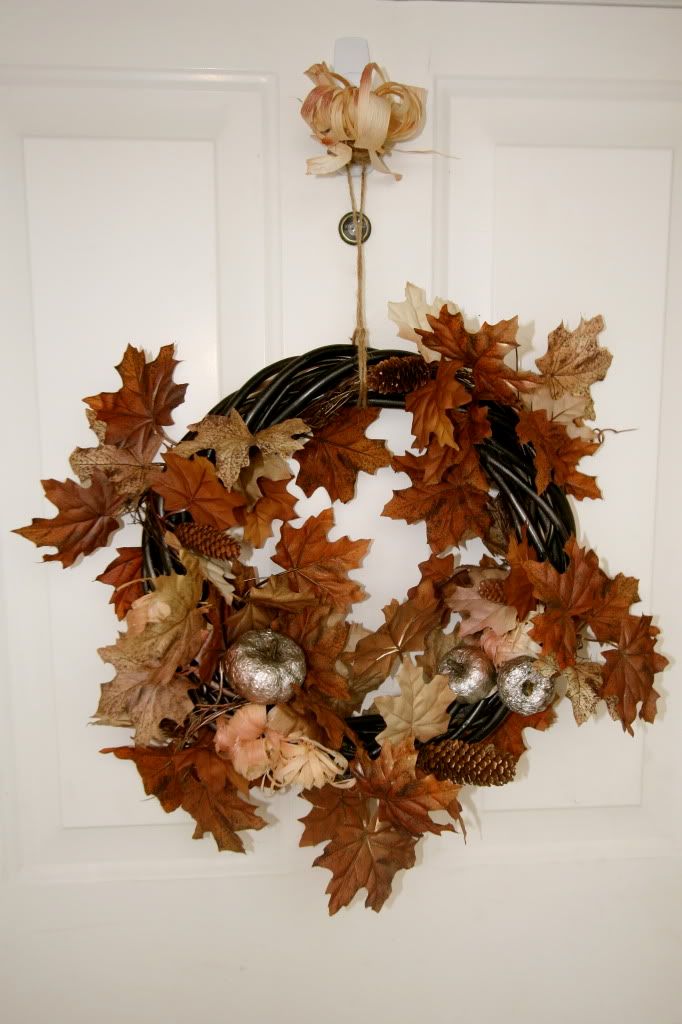 I do love fall leaves, but I wanted something different than the usual fall leaves on a grapevine wreath. The wreath is a simple willow wreath from the dollar store which I spray painted a glossy black.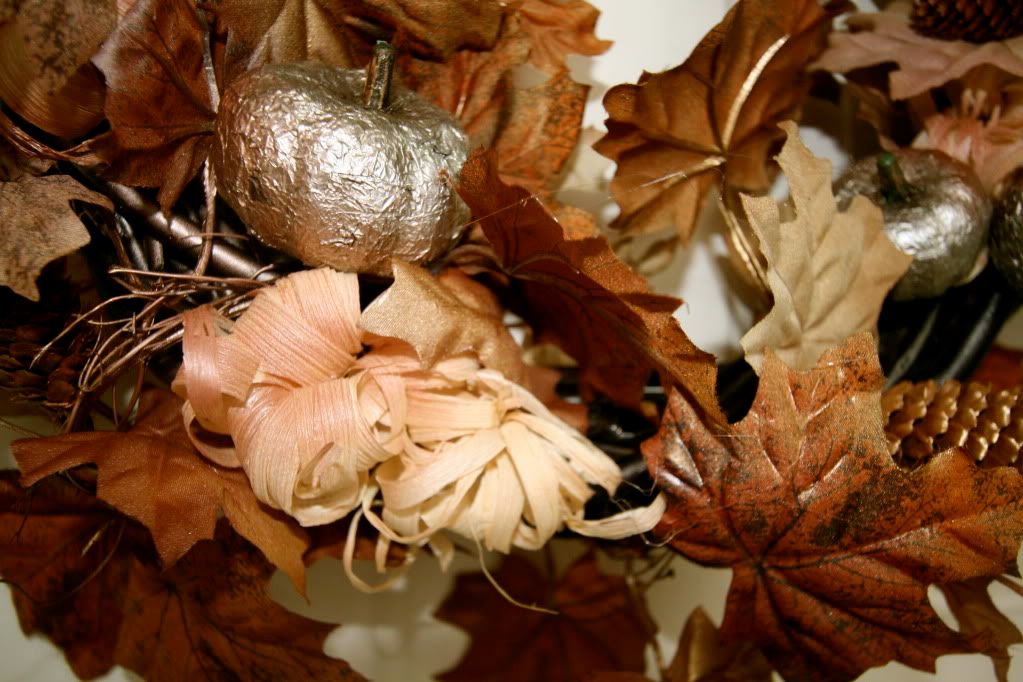 I chose a wreath garland from
Joann's
that was very neutral, no bright oranges and yellows. I wanted something a little more subdued. I dusted the garland with a gold spray paint, lighter in some areas, heavier in others.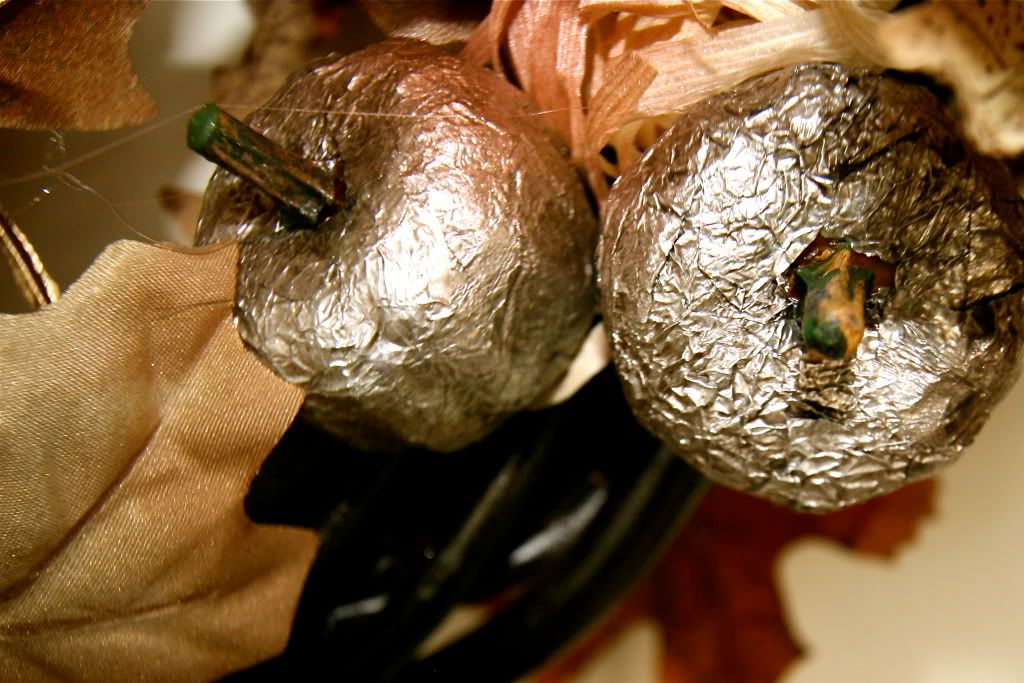 The pumpkins are foam pumpkins that I Modge Podged aluminum foil to and then glazed. (This took WAY longer than I should have let it, but I just love how those little pumpkins turned out!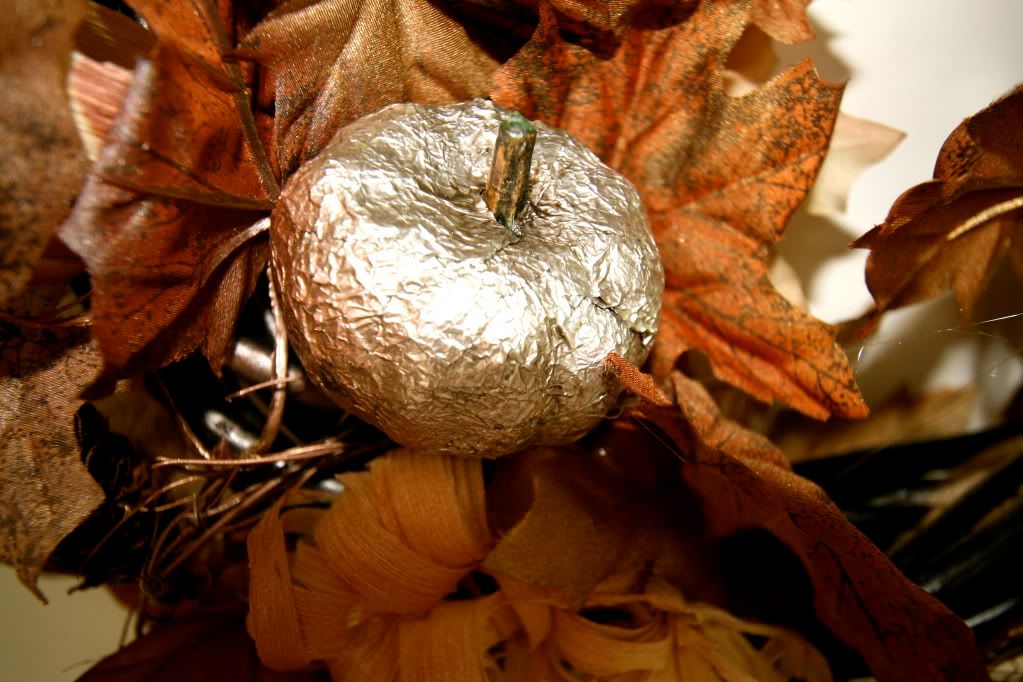 They are simply hot glued to the willow wreath after the leaf garland was carelessly wrapped around and secured.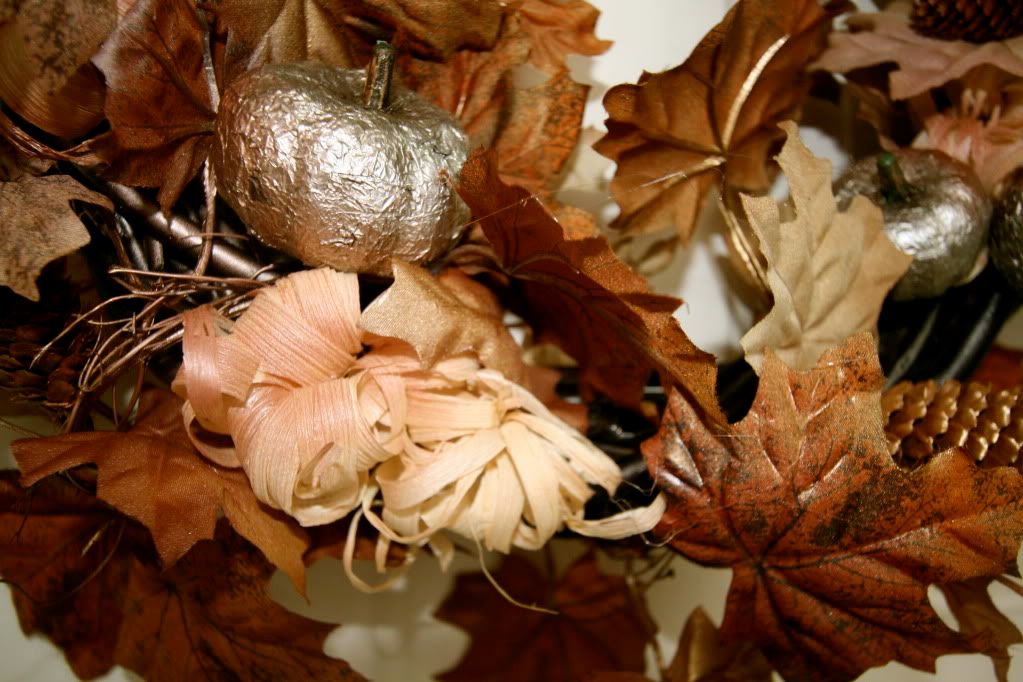 The little nests are made from corn husks.
Which got lightly dusted with a cooper color.
So happy and fallish, it even inspired me to buy a small fall decoration for my home. Details coming soon. . . .