The Duke, Little Sir, and I had a nice quiet day at home together. We had a simple but delicious dinner, watched the dog show (one of our favorite things about Thanksgiving,) spent time together, and oddly. . . installed a new microwave. (Yes, Daddy Shark, that means you are off the hook on Saturday.)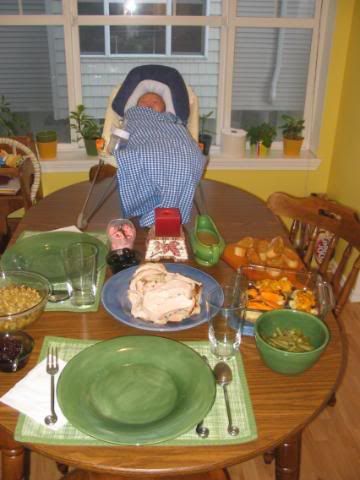 A Turkey Breast is much easier and faster than cooking an entire turkey. Stuffing from a box, green beans from a can, but I did actually make twice baked potatoes- my favorite way to have potatoes. There is also some pink Jello salad to make my Utah born and bred hubby feel like he was home :) -- Little Sir had his dinner a bit before us. You'll notice his 'leftovers' sitting there with him.
Yes, my Duke is a tad bit, well let's say restless. He doesn't sit still and/or relax very well. He is either asleep or working on a "project." Yes, being his wife can be exhausting at times, how did you know?
I am so thankful for the men in my life though.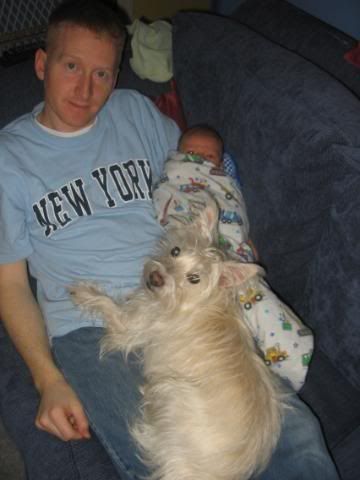 Here they are in the three minutes that the Duke actually sat down during the day.
We have so much to be thankful for this year. Little Sir arriving safely, the Duke graduating and finding a job that gave him the flexibility to be with me while I was sick and laboring, our moms who came to our rescue, and our friends and families that supported us, prayed for us, and showed us more love than we could ever imagine possible.