Today was a very productive day. I got up, showered, got dressed, dryed my hair, then looked at the list I had made the night before of things I wanted to do today, a rare Wed. off of work.
Then I looked at the list a little longer, happy that I had a day to do these things, but not really excited about doing any of them.
Then I sat there a little longer.
Then I got mad at myself and wondered, how much of this would I all ready have done if I were at work and this was my to-do list. If I were responsible for using my time wisely because someone was paying me I certainly wouldn't be sitting here
thinking
about getting things done.
I decided to play a game, a work game. I went to my kitchen and set my timer for 1 hour, then I ran back downstairs. The race was on to see how much I could do in 1 hour.
1. sort and start laundry
2. vacume front hallway, lower stairway, middle hallway, upper stairway, upper hallway, and bedroom.
3. make bed and put away random things accumulated in upper hallway
4. load dishwasher, wash dishes, clean kitchen and clear of "landing" zone.
5. straighten family room
6. put away folded clothes and hang up closet clothes.
I was half way through #6 when the timer went off. I decided to finish what I was doing (it was my game after all,) and that took another 20 min or so. I thought I did pretty good. I was a little winded at the end of it. I certainly couldn't keep that pace all day, but for an hour, sure. Maybe, just maybe, I will play my game a time or two a week and see how it goes. No promises though, there are certainly more fun games to be played.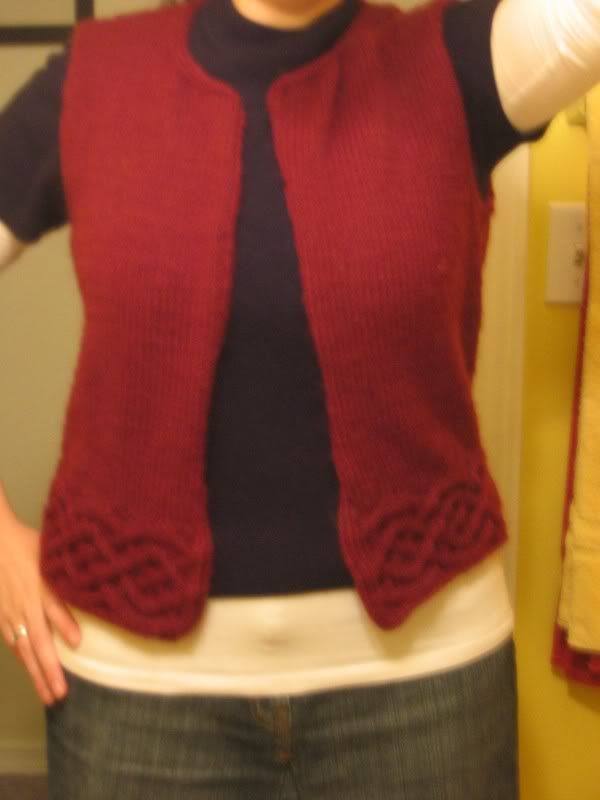 As for knitting, oh yes, there has been knitting and in fact, there is even a FFO to be shown. (That is a finally finished object, as it has been in the works for nearly a year.)
So this is
Samus
from Knitty. You may noticed that I have changed the pattern a little, as in the fact that it is a vest, not a sweater.
It was a sweater on Monday, that was the problem. The sweater was finished, but, problem #1, I had made the sleeves too long. Not a big deal, I know how to shorten sleeves. It was problem #2 that was keeping me from FO status. I didn't like how the sleeves fit, they were much too loose for the fitted nature of the body. They looked funny together.
So there sat Samus, all sad, for 9 or so months, thinking that she had been forgotten forever.
But then, salvation!
A few nights ago as I was putting away my yarn into my new storage, I saw Samus and I began to wonder anew what I was to do for her.
I went to bed that night and my brain actually did something useful while I was sleeping. I dreamt that I look the sleeves off of Samus and turned her into a beautiful vest. I woke up the next day and knew it was to be. The sleeves came off with no problem (that, mother, is why you don't weave in your ends until
after
you try on your sweater.) I even knew where the extra skien of yarn I had was, since I had just organized my stash, so the addition of I cord edging to the armholes was done in one night. Hurray for being so obsessed with knitting that you even dream about it. (Kinda scary, don't you think?)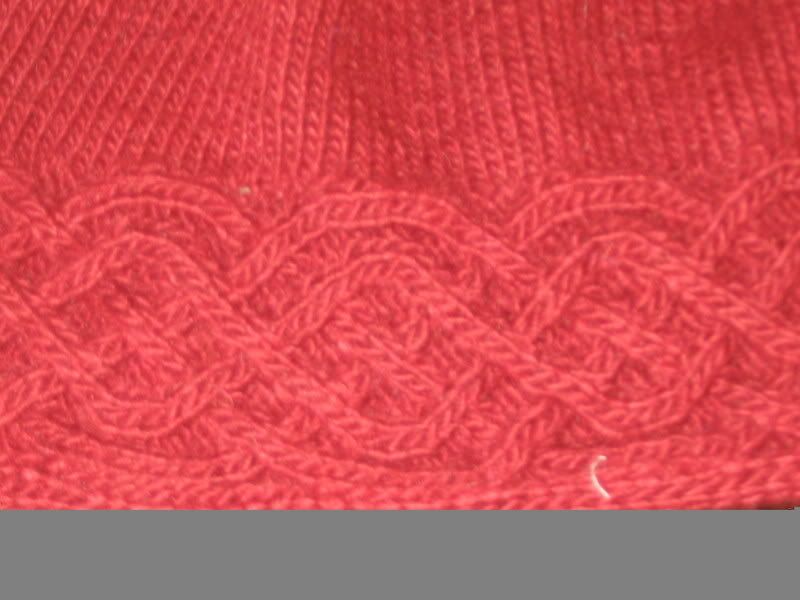 So here is a close-up of the "Celtic Braid." Pretty, no?
I was thinking that I would still put a zipper in it, but I actually like it so well open that I don't think I will stress myself out with the details. I think I will go over to
Nancy's
and pick up a cool Celtic clasp to go at the top, and that will be it. Easy!
My "therapy" sweater is also coming along well. I knit most of the second sleeve tonight during class. I will join the sleeves to the body tomorrow if all goes well and be done no later than next week, if even that long.
unprecedented, two sweaters done in two weeks. It's unheard of. We'd better open an investigation.
Logan will head it up, he's the perfect dog for the job.