So this has been the craziest week.
It started out last Monday, with the arrival of a friendly little Bichon Frise, Louis. We were watching him for the night while his mommy and daddy enjoyed a fun night out. Louis was not happy with the situation. I will forgo the details, but Louis made sure that not only was he not happy, my pups were not happy, I was not happy, and my neighbors were not happy. We were all very grumpy after a night of no sleep.
Well, the week must go on, and so did we:
The Duke had to be taken to work on 6:30 am.
I went into work early (very early) because there was no sleeping to be had at my house.
In the afternoon Louis' dad came to get him and he happily went home to sleep while my pups and I also settled down for a short (ahem, 2.5 hr) nap.
Then grocery shopping (Costco is so exhausting to me,) and the whole day ended with the Duke shaking up a very very large bottle of salsa which, due to our sleepless night, ended badly with a lid that had been opened and replaced, but not tightened- we are still finding spots of salsa in very strange places.
Lucky for me, the mailman must have known I needed a pick me up, as my SP package arrived in the mail that day.
What a treat! Great yarn, supperwash lamb's pride in purple! Dark truffles (yes, they are gone by now.) and the most beautiful hand made cards, pocket calendar, and notebook.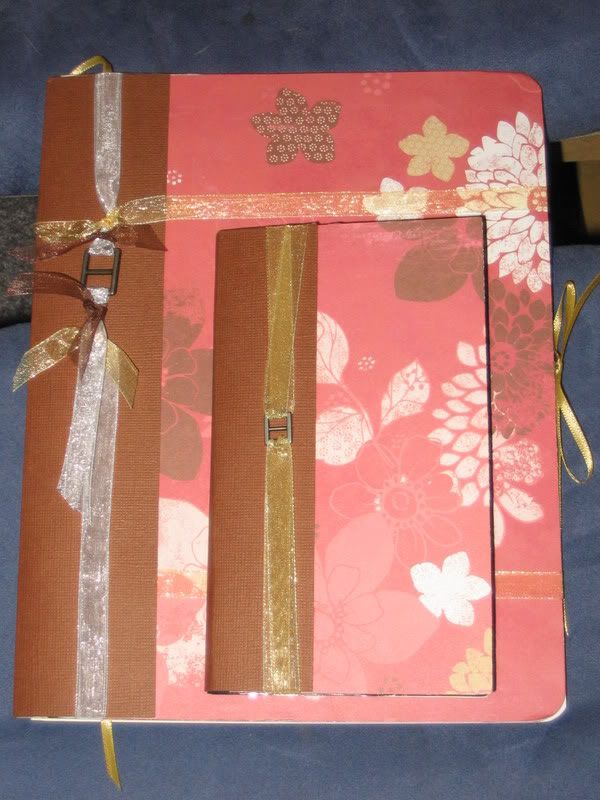 Thank you SOOOO Much Rae, you saved an otherwise awful day.
Also,
Tues is knit night- but there was no knitting done, why?
This had arrived and there was dyeing to be done.
At the end of the night. . .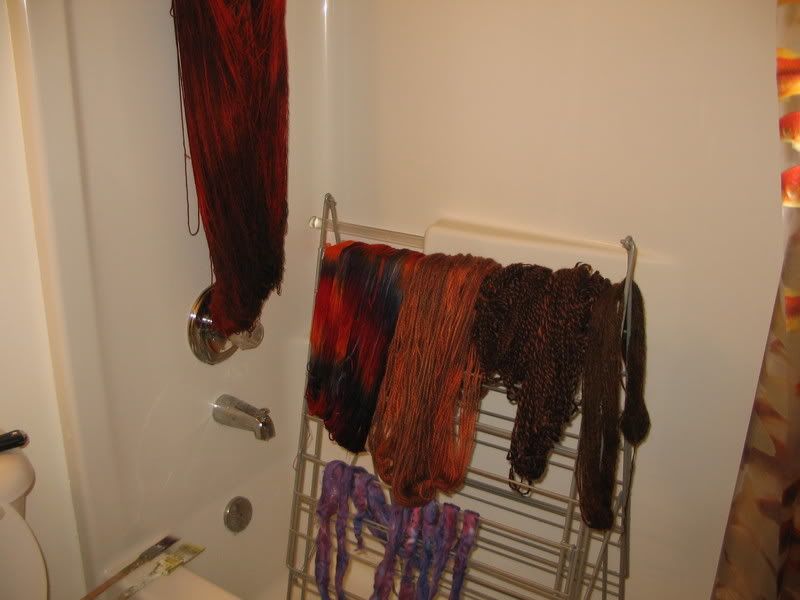 this was on the drying rack.
The next day (after a good night's sleep) we moved into Thanksgiving prep mode.
The first thing I was thankful for (well, after my husband, dogs, and warm home) was this: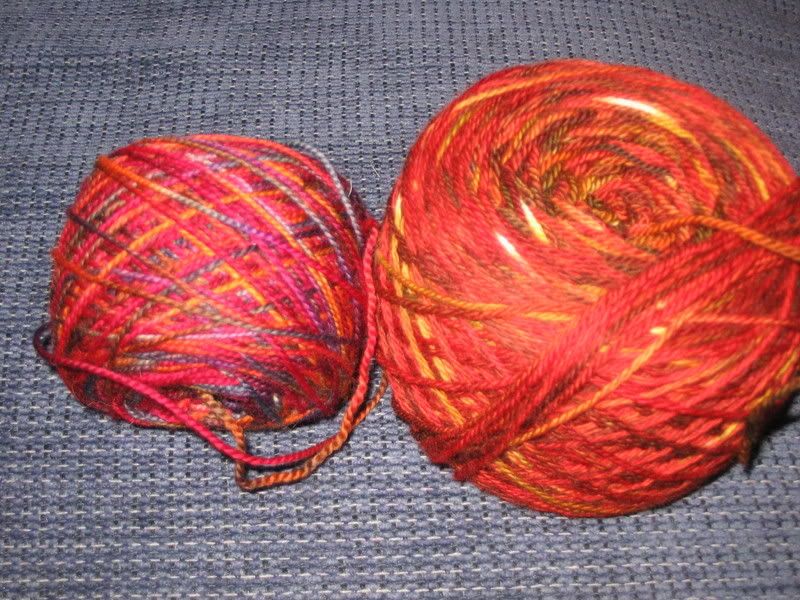 three of the one on the left and four of the one on the right,
and this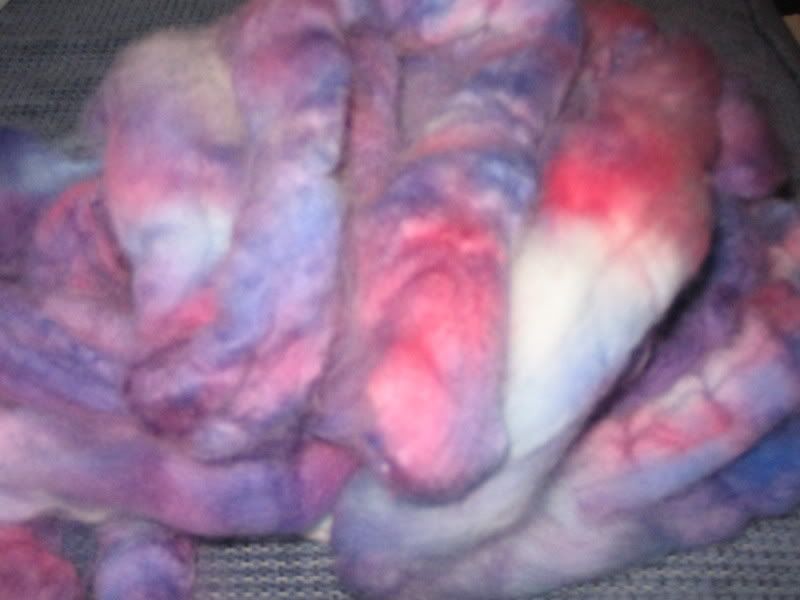 that would be superwash merino. YUM!
Tuesday Dyeing night was a great success!
So the Duke and I began preparing for our non-traditional Thanksgiving. We started by finishing up the den mess, HURRAY! The den in back in functioning order.
Then, a good night's sleep and we got up Thanksgiving day and cleaned our whole house, top to bottom. It was very liberating! We now have a clean, put together house for the first time in MONTHS!
Then we picked up our Thanksgiving dinner, cold fried chicken, Chinese chicken salad, and pomegranate juice, then took off for Whidbey Island and a much needed relaxing weekend. We checked into
The Woodland Retreat B&B
.
It was lovely, a beautiful house, gracious hosts, yummy breakfasts, our only complaint was the bed was hard as a rock. It was very relaxing, except the sleep wasn't that great.
But here is proof that if you remove the Duke from the house, computer, car, ect. He actually does know how to relax. . . he just forgets how most of the time
We had a wonderful time. We spent Thursday night relaxing, playing cribbage and gin, reading, knitting, and watching silly British comedy, (including
The Curse of the Were-rabbit
- hysterical!)
Friday we had a wonderful breakfast, and spent the day wandering around Langley. It's a lovely town. I had looked online to see if there were any yarn stores in town, but found none listed. . . and yet my yarn alerts went off twice during the course of the day. One was in a little clothing boutique. The owner knits and she had several of her knitted things for sale as well as BeeSweet yarns, Tilley Thomas, and Mango Moon yarns. No procurements there. Then I was walking along thinking about lunch when I was distracted by the smell of wool, and there it was, a tiny little yarn store. We went in, they had deep red lace weight alpaca from Alpaca with a twist. I was considering it when another lady bought all they had. The Duke got lucky on that one. I was so distracted I forgot what the name of the store was called.
We had pizza (yes, they made me half a pizza with no cheese, it was wonderful,) at Village Pizzeria, for lunch, leftovers for dinner (ah the care-free joys of being a young married couple.) and then because the Duke had missed the pie part of Thanksgiving, we found a little restaurant, can't remember the name, and had pie and cider.
Sat. was another delicious breakfast, and then off the Coupeville. On the way there we ran across an alpaca farm that was hosting a Christmas craft fair that day. We went in, were accosted by a man selling bee's wax candles, met a sweet little Cairn Terrier named Duffy, saw some beautiful local art.
Coopeville was not what we were hoping for, but all was not lost. The Duke spotted a yarn sign (Coopeville Yarns) on the way into town, on the way back out we stopped. There was nothing that I needed in the yarn store, but when the lady there found out I was a spinner she directed me to a little shack of a shop in their parking lot. I had seen the sign, but just thought it was additional signage for the yarn store, but in fact, "Spin A Yarn" is a fiber shop, run (and owned) by a 13 year old girl who was just as sweet as pie and sharp as a needle. Adrian, I think her name is, sells commercially available rovings, but the real find is the fiber that she prepares herself from her Alpacas that she raises, shows and breeds.
I bought this from her, and I will be going back for more. Go see her if you are on Whidbey, but call first to see if they are open, currently she is only open M-S 10-4.
360-678-0203
We came home a little early, as we were missing our pups, but thanks to
Shannon
, who came to our house to take care of them while we were gone, they were just as happy as clams. THANKS SHANNON!
Then, in true crazy Wright fashion, we were off again on another errand, Christmas tree shopping. We have been married for 5 years and this is our first Christmas tree. We usually go back to Utah for Christmas, but not this year, and we needed a good dose of Christmas right up front to prepare us for our first WA Christmas.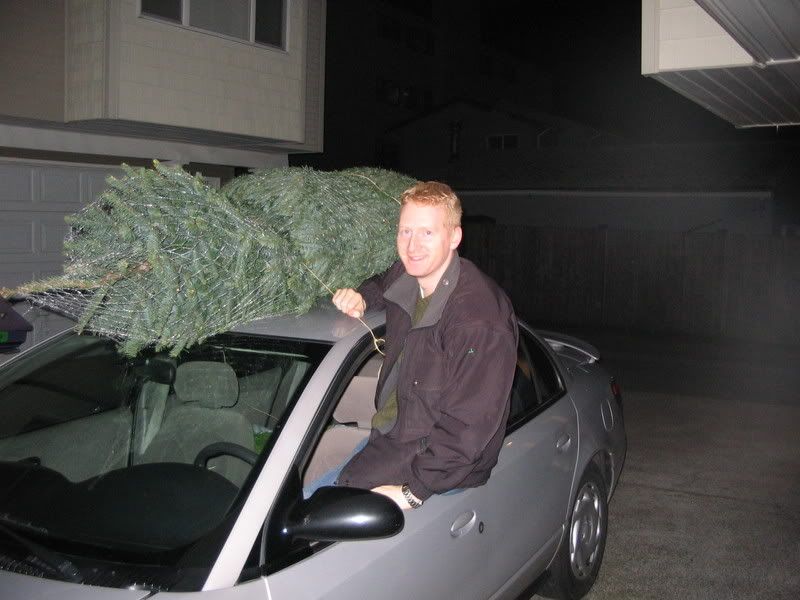 Lesson learned: If you tie the tree to the top of the car with the doors closed, you won't be able to open the doors to get in and out. We felt very Dukes of Hazardish.
Maggie and Logan were very excited, and a little confused.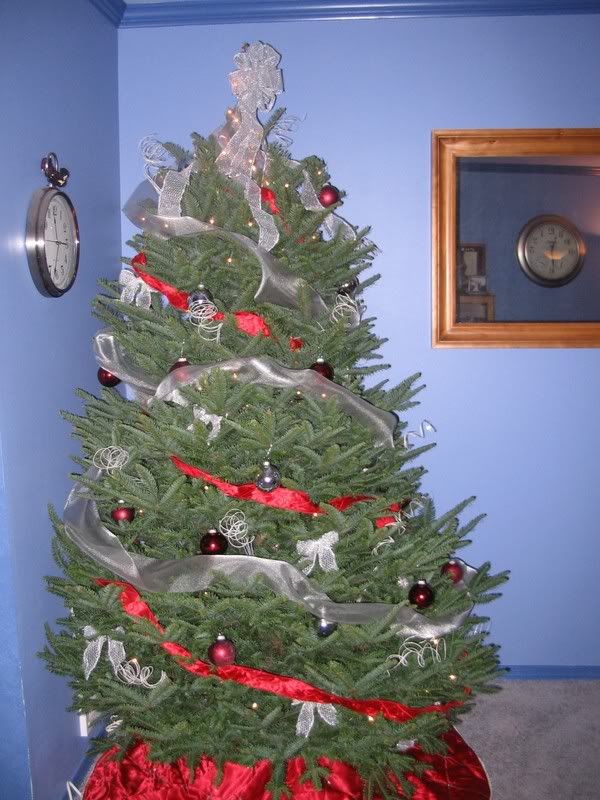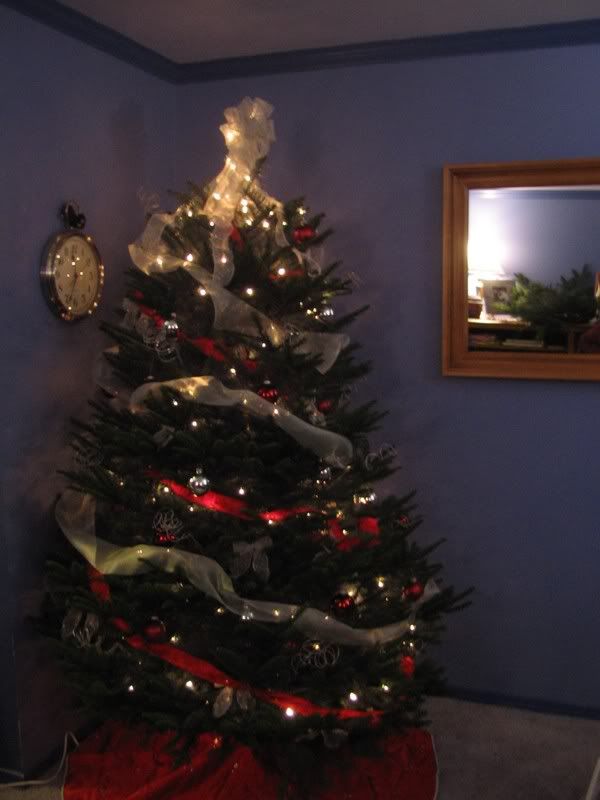 The results!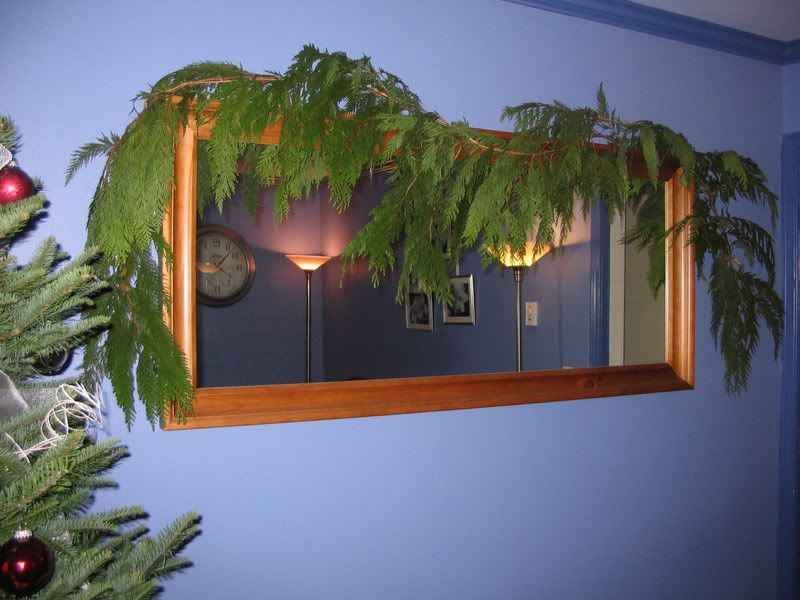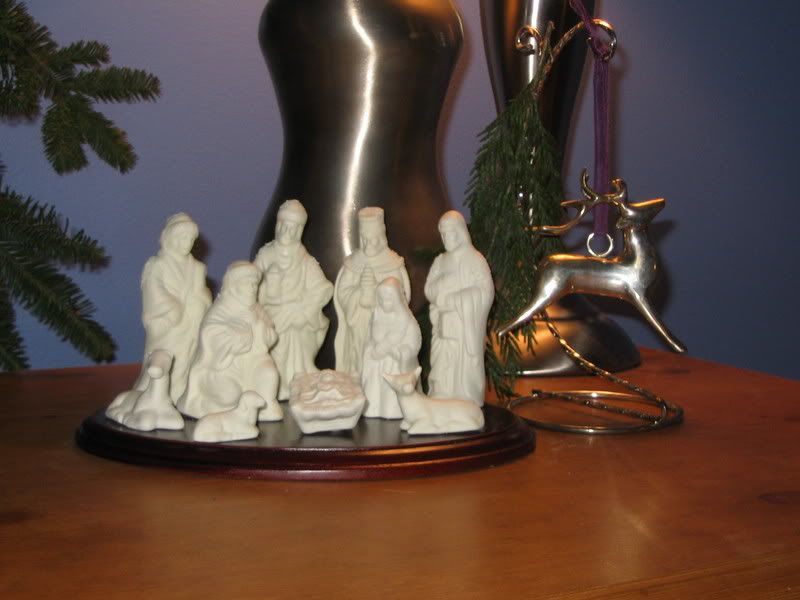 A little more Christmas cheer and all we needed was a little snow to make it a true Christmas season. . .
The next day-
Snow, in Seattle? Well, miracles do happen, and the Duke was praying very hard for snow. Yes, send your cursings his way.