Thank you all again for your comments, emails, phone calls. I really do appreciate it. The Duke and I did make our decision, after one of the worst nights yet, we decided to try the second, more dangerous, drug. Again, it did nothing. Now we wait for Wed. and another Dr.'s appointment.
In the meantime, some of you have asked if there is anything you can do. . . well, the only thing that helps right now is being distracted. So distract me!!! Post to your blogs, they are a great distraction for me.
Here are a few things around here that I have employed in the distraction arena.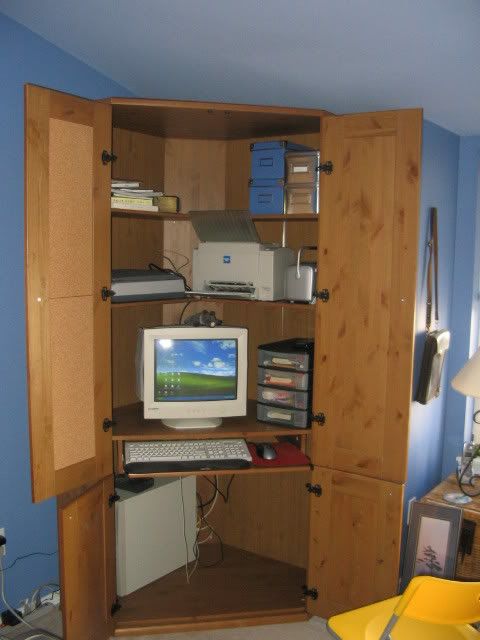 My new computer desk (housing my computer of course!)
Chocolate in adorable packaging. A Chinese friend of mine once gave me a package of these mushroom shaped candies, and not only was I hooked on the candy (so yummy!) the packaging makes me smile every time.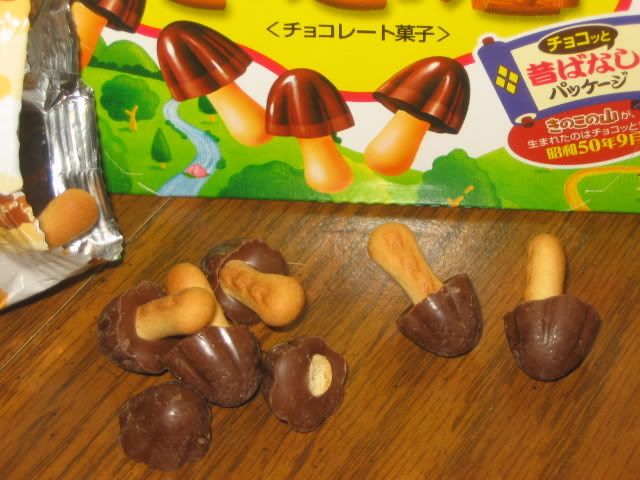 The candies really are shaped just like they are depicted (cartoon style) on the package, like little mushrooms.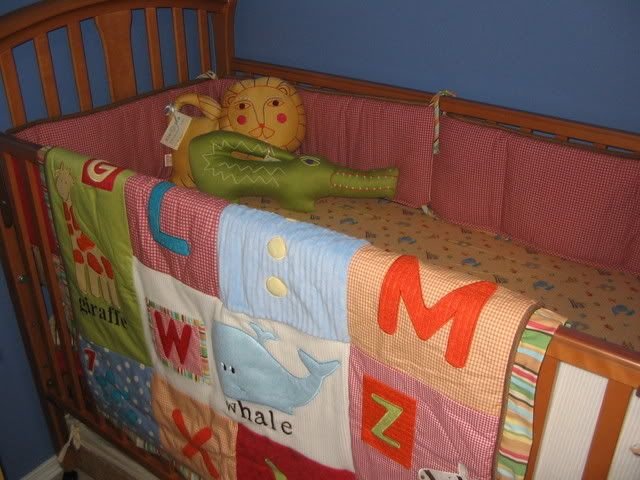 Cute baby things are always good for a little distraction, and our bedding arrived in the mail a few days ago. The Afircanesk stuffed animals the
Princess
and I bought go so well with it! I'll show the entire nursery when we get it put together.
Knitting and Spinning have always been a happy distraction for me, but as one of the symptoms of Chorea is weak and or painful hands, that has been difficult. I have been able to do a little knitting.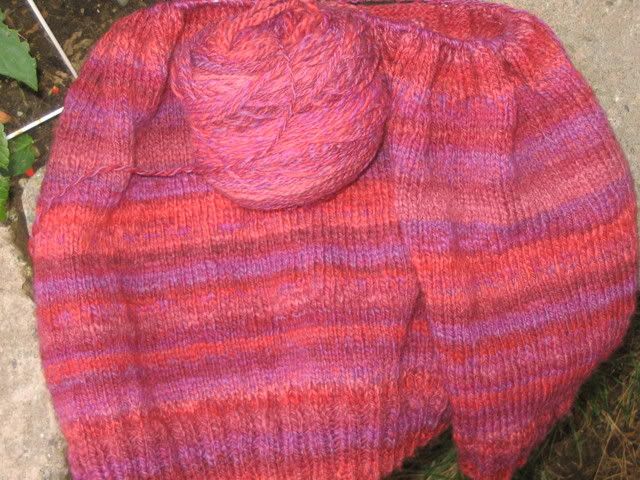 It's funny,
Shazmina
asked in her latest blog entry what we tend to cast on for when our knitting desire has stalled. I knit what I call my "therapy sweater." It's a simple bottom up raglan, all stst, in worsted weight yarn. It usually takes me about a week to knit it. I happen to be knitting one now (it's great for all knitting, no thinking which is all I can handle right now.) This is a little over three weeks worth of progress. Oh well, progress is progress I suppose, even when it's so slow.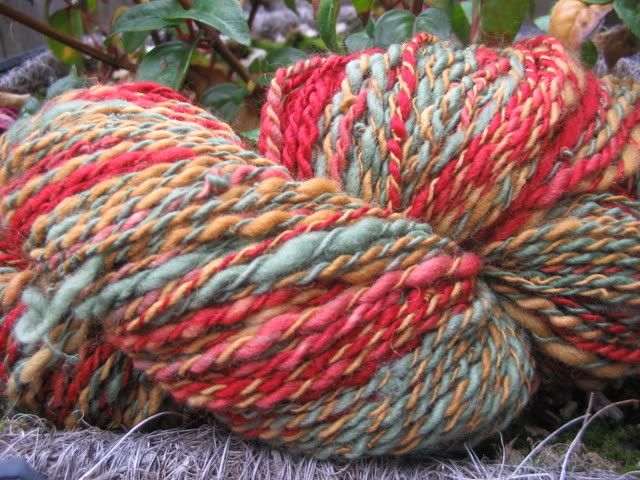 Spinning is usually good for a little distraction as well, but I had been struggling with it hurting my hands. This is what I had been spinning, and while I love the colors, I realized a few days ago that the reason that it was causing my hands to hurt was that because this particular roving was a tad felted. It was very difficult to draft, no wonder my hands hurt!
So I pulled it off of my wheel and rooted around for something else to spin. I found some dark silver merino/silk I had purchased and promised to spin for
Tzarina
for her birthday way back in March (Bad friend BAD!)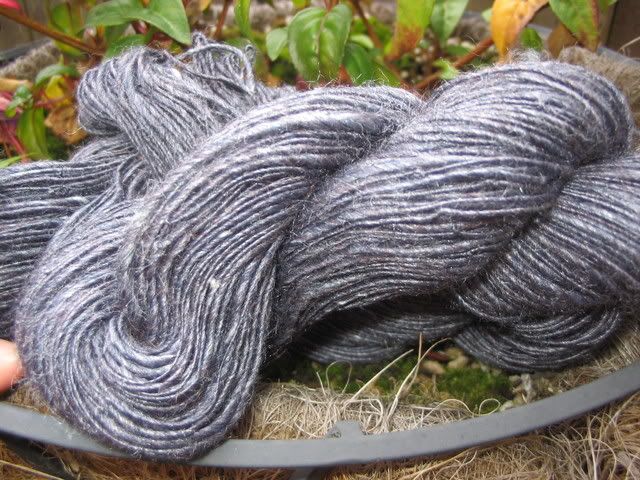 The singles spun up with such ease it was like the fiber was spinning itself (much better for me hands.) The also turned out so beautifully that Tzarina decided that she wanted them left as singles. I can't wait to see what she knits out of it.
Next I found a combined (not blended, the fibers were still distinct from one another) batt that I purchased several months ago from
The Artful Ewe
. It was (if I remember right) BFL, alpaca, silk, and mohair. I had been wanting to work on my worsted spinning (long backward draw) and thought this was the perfect fiber for it.
The singles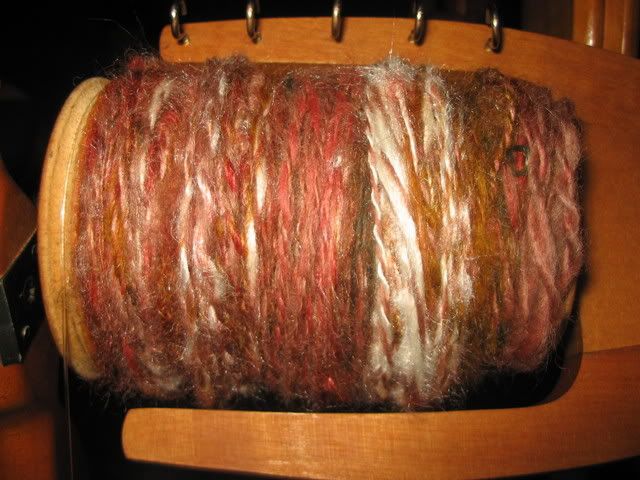 2 plied
The "waste"- I love it when this is all that is left on the bobbin with more fiber, so satisfying to person obsessed with efficiency.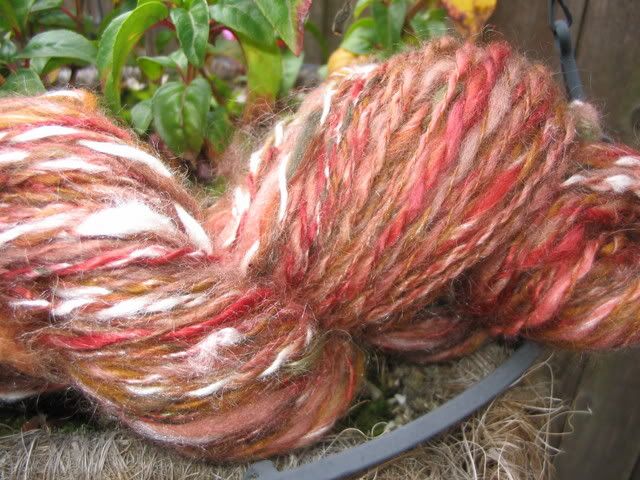 The finished "fluffy" and supper soft yarn.
And a close-up. It was fun to let some of the mohair locks and other fluffy parts of the batt remain sticking out. I love how it turned out- about 140 yds of a light worsted weight.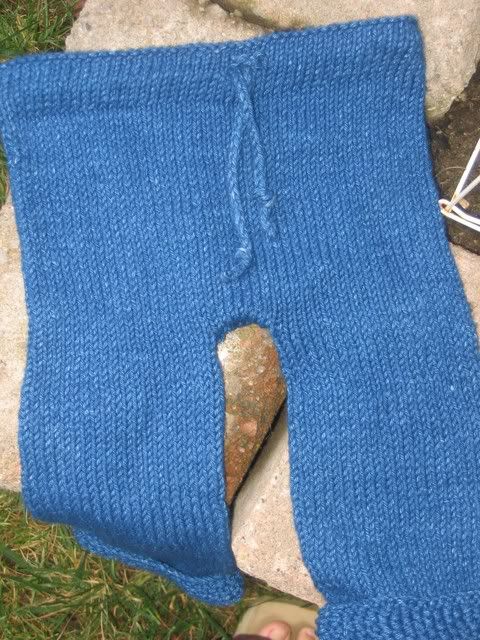 And last, but no where near least, good friends and family have been doing their best to distract me. Tzarina came over on Friday and brought these adorable knit pants for the alien. I can't wait (for more than one reason) to see him in them! The
Queen
,the Princess, and
Sarah
(who is hopefully having a baby this weekend!) too, have been doing their best to keep me distracted with near daily phone calls and emails. It's so wonderful to have good friends and family. I love you guys!