What do you do when your loving Duke is turning 30 (yesterday was his birthday) and he requests a carrot cake with REAL cream cheese frosting, keeping in mind of course that you are allergic to dairy?
Well, you make it for him of course! I just found that if I got a little creative that I could share his birthday cake with him as well.
First off, the cake was converted to cupcakes. I love cupcakes and the Duke doesn't care one way or the other. (I think he really likes cupcakes better too, they are more fun to eat than a piece of cake!)
Then, I made two batches of frosting. One with REAL cream cheese and the other with soy cream cheese. As my allergy is not sever, just annoying (I get a rash on my face) I tasted a bit of the real kind to see how different it is from the soy version, they taste so similar I don't think anyone would be able to say which was which.
SWEET! Carrot Cupcakes!
The top four are the real cream cheese and the bottom four are the soy cream cheese. (Please excuse the crummy camera phone photos- my camera's batteries are dead and I have no replacements in the house.)
You say you need more sweetness than that? Oh, well let me help you.
Here I am with my sweet little niece who is sitting on top of a donkey- yes a donkey! And where, you might ask, did we find a donkey? Oh just in the Queen and King's front yard. Yes people, here is proof that I have not always been a city girl, but at one time was a sweet country girl. Let's just focus on my adorable niece, though. Have you ever seen such a sweet girl?
SWEET- a super cute niece on a donkey!
Oh, and if that isn't enough sweetness for you, I have a baby bit more!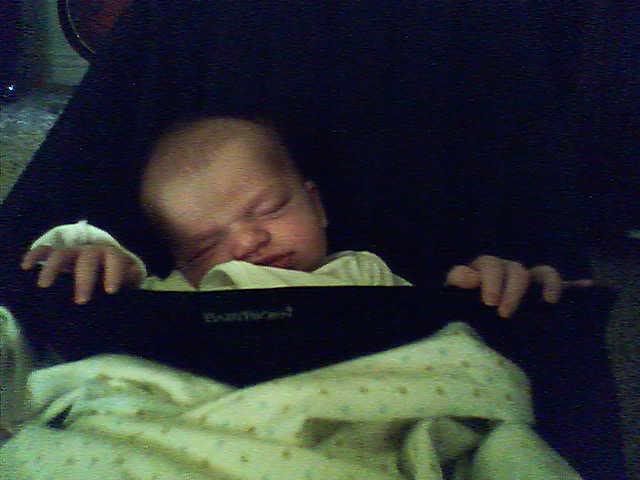 KILROY WAS HERE!
Here is "W" remembering his great grandparent's generation. Here he is doing his best impersonation of
Kilroy
!
SWEET! A baby Kilroy!