This weekend our family celebrated 7 years sense its inception. (That would be mine and the Duke's 7 year wedding anniversary.)
We got up early, had breakfast, and then the Duke and I joined Little Sir for his morning nap. It was wonderful.
Then we headed out for a day of fun filled family adventure.
First- mini-golf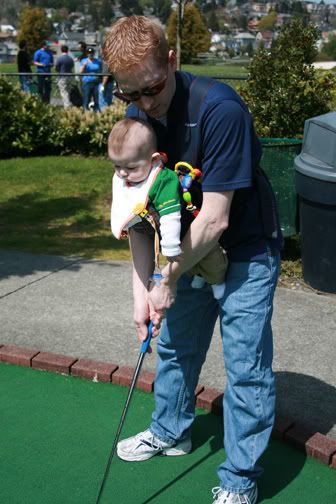 Watch the ball Little Sir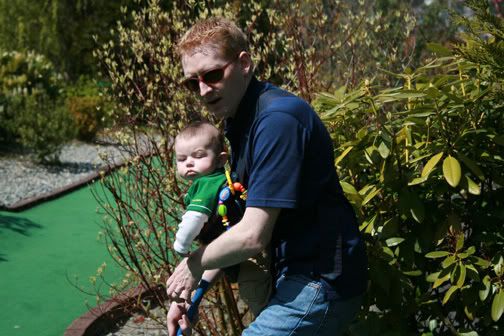 Now, stay focused, this is a very difficult shot.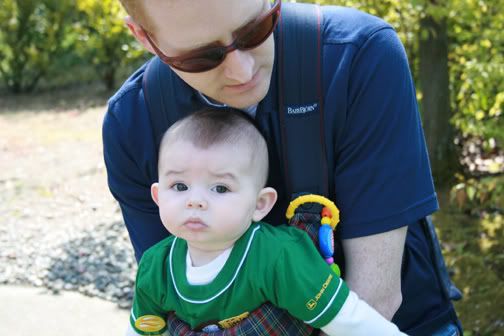 Mama, are you watchin' this?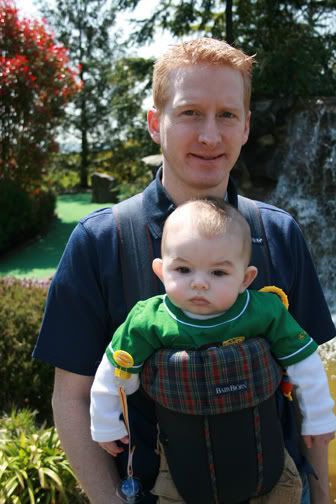 The victorious "team"! (despite my amazing hole-in-one.)
Then we thought we'd go down to
Pike Place Market
for a bit, but when we got down there it was an absolute zoo. All the rest of Seattle and their out of town guests had the same idea, so I jumped out and got us some cookies from
Three Girls
, and we headed north.
After a bit of driving around (Link was kind enough to make a delivery on his day off,) we headed up to Edmonds. We had a late lunch/early dinner at
Arnies.
It was OK, probably a 7, but we didn't order anything that really let them shine. The seafood was good and fresh.
Then we went out on the pier for an early evening walk.
Papa loves his baby.
Watching the horizon.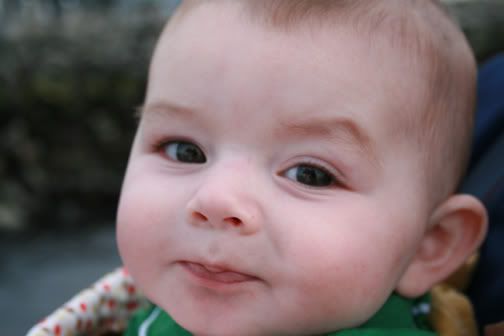 HI MAMA!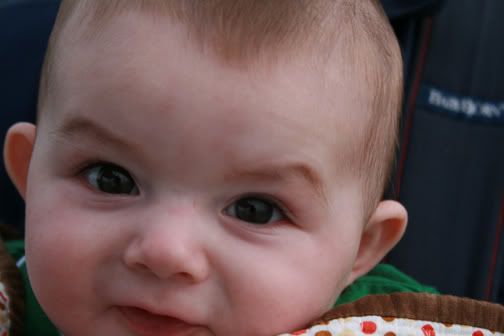 MAMA! Get me out of this thing all ready.
And one obligatory picture of me. (I would like him to know I was actually there when he gets older.)
Sunday a quiet day, remarkable only because we celebrated Little Sir eating his first "solid" food.
I'm starvin' Mama, when we gona eat?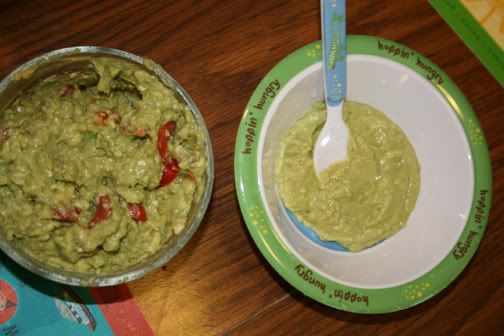 Mom and Dad's on the left (avocado, salt, garlic powder, lime juice, tomatoes.) Little Sir's on the right (avocado, breast milk, ground cumin.)
OK, I'm ready!
First Bite. He was very excited.
He preferred my finger to the spoon.
What is this stuff anyway?
Mama, have you tried this stuff? It's pretty good.
Mess? What mess?
He ate about a quarter of an avocado.
It was a good weekend.