I needed a break from socks. I also needed a break from thinking about my knitting. It is rare that I knit a pattern just as it is written, but this is just what I was looking for. I had some lovely Malabrigo Worsted that had been marinating for quite some time now. I saw
Melissa's
lovely cowls and was inspired. I knew what I had to do!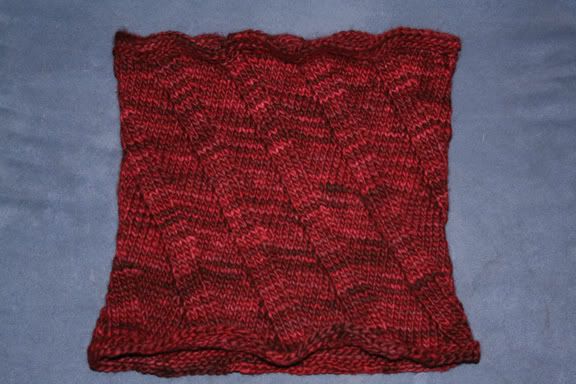 It took just one skien, just as
the pattern
(Thanks Nova!) promises. I have another skien left over that I will use to knit a matching hat. Oh, and if you think it is strange that I am happily knitting a cowl and a hat in June, you should check out our less than summery
weather
.
Next, I want to warn you to be on the look out for flying pigs and snowballs in hell. I have completed a project done entirely in crochet.
When
The Queen
was staying with us when Little Sir was first born, she bestowed the nickname of "Owlet" on him. This is because when you would go to check on him in his crib he would be laying there, still as can be, peering out of the darkness with huge, unblinking eyes. He also would pucker his lips as if he were about to say "Whooooo." (Oh, remembering the cuteness just kills me!) Well he doesn't 'silently' whoo whoo anymore, but we still marvel that he blinks less often than seems possible.
Any-whoooooo (he he) he clearly needed a toy owl. Much thanks to
RoxyCraft
for the adorable pattern. (Even if I did have to crochet!)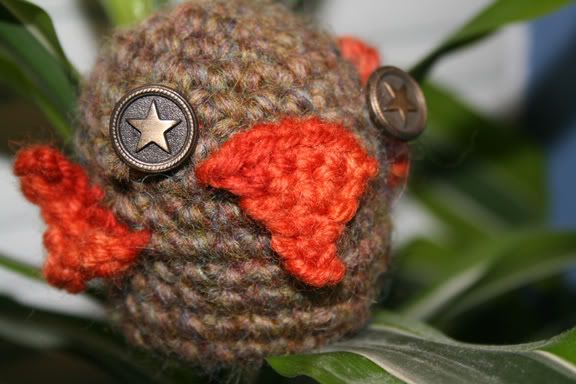 Whooooo Whooooo!