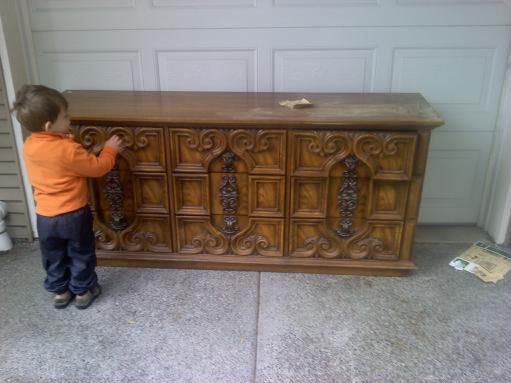 I found this "treasure" at a thrift store (DI for you Mormons out there, the one here in Seattle is fabulous) for $40. It is mostly solid wood, including the drawers. Only the decorative fronts are a thick veneer mounted on some particle board, but are still dovetailed. It was in nearly perfect condition.
When I brought it home the Duke nearly fainted and dubbed it the horrid-grandma-dragon-dresser. He could not believe I would bring home something so ugly. I reminded him that in 9.5 years I have never disappointed him in the home decor department. He just shuttered.
Little Sir seemed to like it quite well, mostly because he saw the paint brushes come out!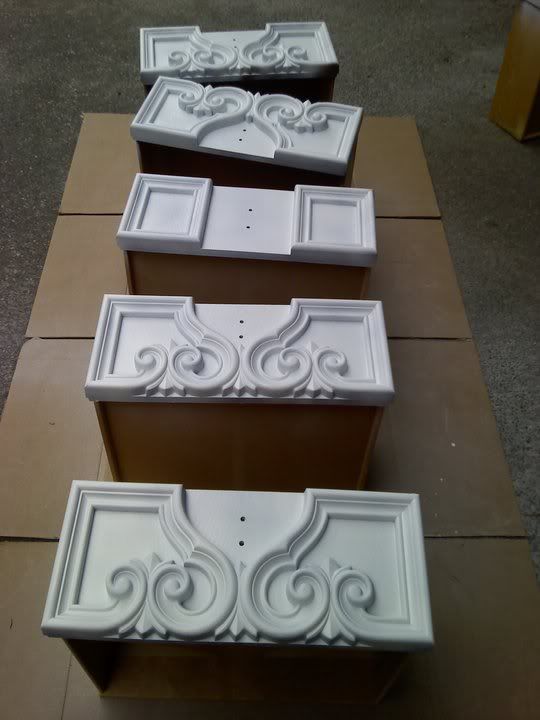 Primed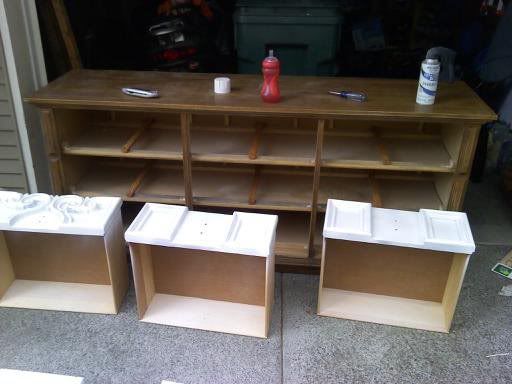 In process, with all the necessary tools, including a sippy, of course. Little Sir and the Lion Baby were excellent assistants. Little Sir even removed all of the hardware with almost no help from me (the kid's not even three yet, he's clearly a genius!)
Well, my Duke, eat your heart out. We now have more storage in our bedroom than you could ever wish for, and it's beautiful.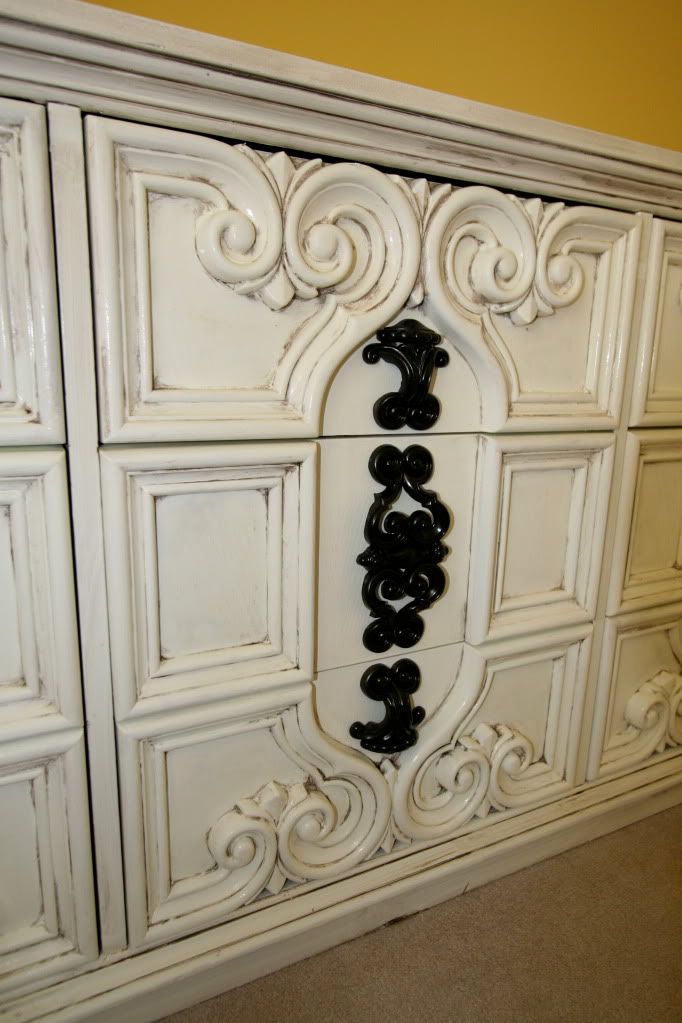 The paint is Behr's Magnolia Blossom in High Gloss. I LOVE this color. It is a beautiful creamy white. I have it on several of my walls. I chose this white and the high gloss finish mostly because I had a gallon of it in my garage left over from when we painted our window seals and banisters. I rolled the smooth parts, but the drawers had to be done with a brush. My experience in painting zillions of feet of molding came in handy here. My tips: plenty of paint on your brush, brush quickly, and in the same direction as the line of the molding. Don't go back over it while it's wet, if you miss a spot, get it on the next coat. Sand between coats if needed.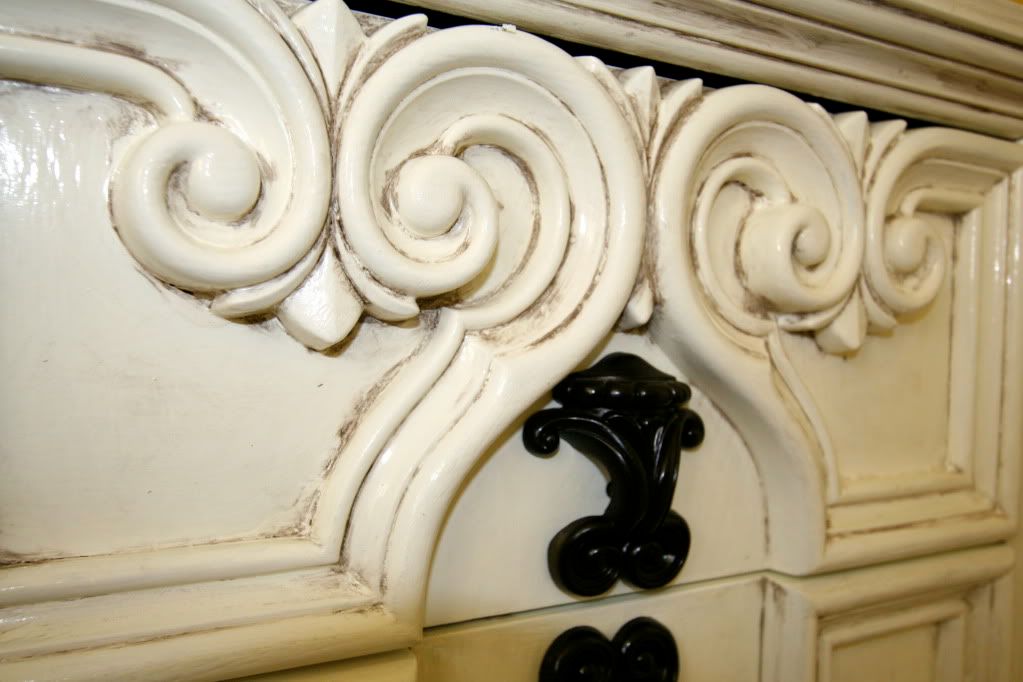 The glaze is Ralph Lauren's tinted a dark brownish black. I put it on with a brush to get it down in all the cracks then wiped it off with a damp rag.
Here's a question for those of you who have done this a lot. Do you glaze the flat surfaces if you are just looking to use the glaze to bring out the details? I decided too because the flat portions of the middle drawers got glazed and I wanted then to match in case you could tell the difference after everything was dry. I'm not sure it made any difference.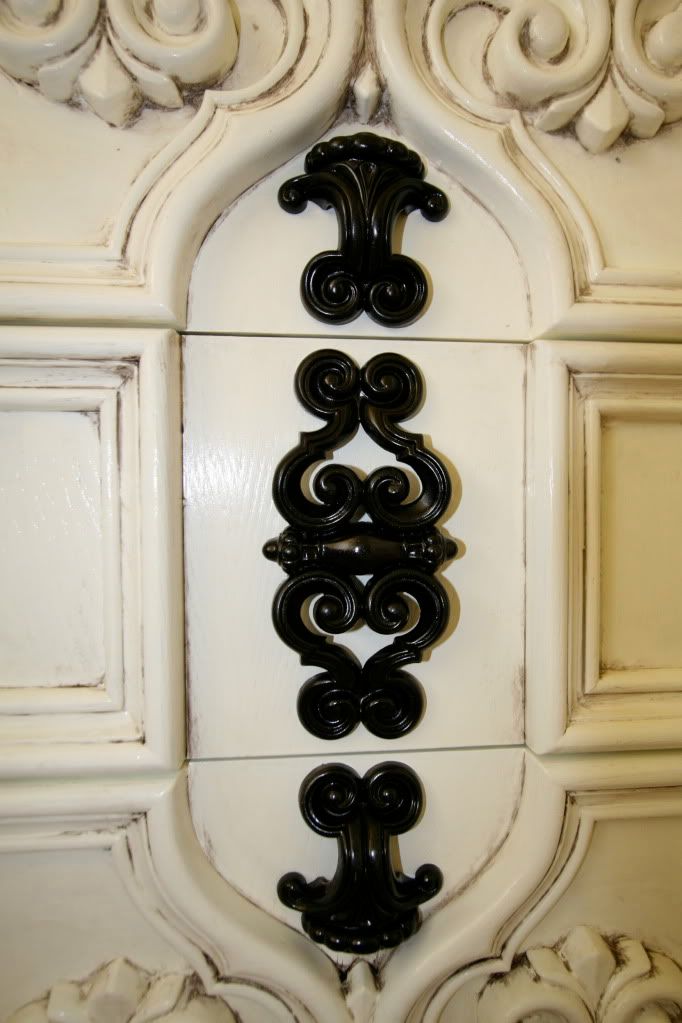 The handles were spray painted with everyone's favorite oil rubbed bronze. Having never seen it in person, only in blogland, I really didn't know why everyone loved it so much. NOW I get it. It really is a beautiful finish for the hardware.
I'm working on a large piece of art that is to go over the dresser but it is not coming together how I was hoping. I may have to start again, but look for that soon.