Sounds like a dangerous question doesn't it? I wish I would have asked it, oh I don't know, say a year ago.
Tonight, for the first time, I noticed a little flower symbol on my camera. I thought that was strange, as I was certain my camera (much to my irritation) did not have a macro function on it. I decided to press it. A little bar graph came up, giving me the abbility to select how far away the camera is from the subject. OK then, I'm an idiot.
I have struggled to shoot good yarn photos for over a year. I would curse myself for allowing my husband to talk me into a digital camera without a macro function. Tonight, after discovering this, I sat here thinking and then remembered, "Oh yeah, it's the telephoto lense he gave me for my non-digial slr that doesn't do macro" Sigh.
Anyway, hopefully my fiber photos will be much improved, at least as improved as I can get with my little point and shoot digital camera.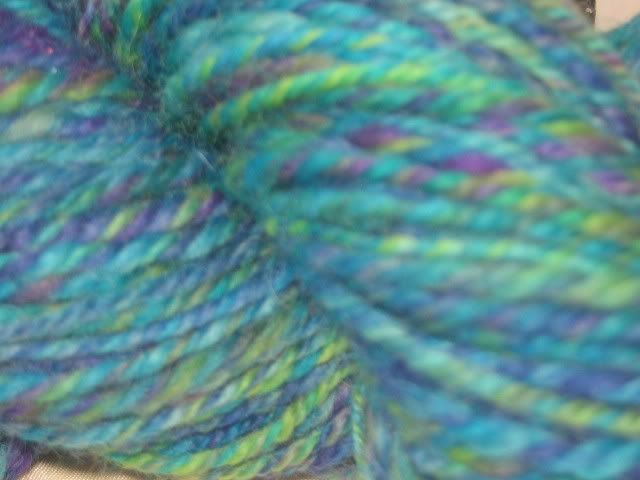 Louet's Northern Lights Space Dyed Top: Violets
This wasn't very easy to spin, even in pin drafted form. I had terrible problems with it breaking or not holding its join. It turned out pretty though, and I have a few more onces in a different colorway that I will stil spin, so it must not have been that bad.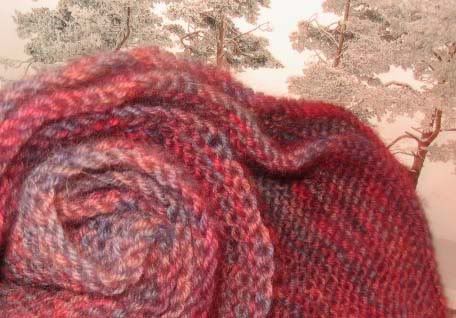 My finished scarf in my own hand-dyed colorway: Savanah.