Some birthdays are good, some are bad, and some are just plain outstanding! This was one of those birthdays. I didn't request my birthday off, but it just worked out that I didn't work the entire weekend. We celebrated Sat. because the Duke did have to work. After a very nice day of relaxing at home, the official celebration got kicked of with a crashing good time. Now, normally I would not be happy about being woken up early on a Sat. by a demolition crew, but this was no ordinary demolition crew. . .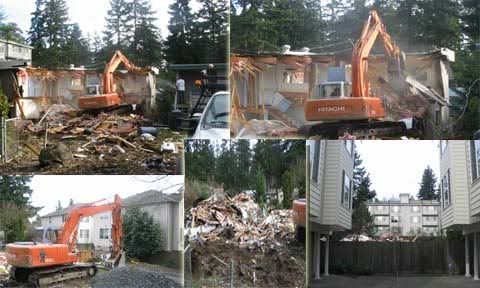 Yes, that is the abandoned, dilapidated, nasty, awful, building next to our house being torn down at long last HURRAY! A GREAT birthday present.
The pups (and the humans) got a nice morning walk and then off to breakfast, but not before stopping off at the post office to pick up the package I missed yesterday.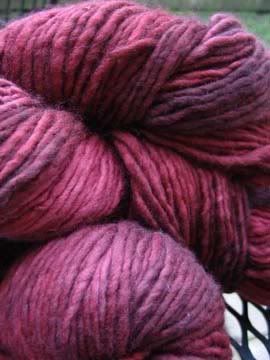 My SP is Awesome. I have never seen this yarn before, but I adore it. It's called Malabrigo, kettle dyed pure merino. It looks a little like Manos, only much softer and more yardage (216.) She also sent a couple of bottles of her favorite salad dressing/marinade. I looks delicious, we will be using it Sunday night. And she sent some tart valentine candy, my favorite.
Then off to breakfast (our tradition) at a
restaurant
we had never been too. Oh we will be going back, it was sooooooo good. The best french toast I have ever had (sorry Mom.)
Then, a little shopping on Queen Anne Hill in the best weather I have ever been treated to on my birthday. (High 50's and sun in Seattle in Feb. - love it!)
Later we had cake- yes I made it, and happily so as the Duke cleaned the kitchen and cooked dinner. I love angle food cake and my lil sister told me how to make our traditional frosting with cool whip instead of cream. It's not as good, but better than not being able to eat it at all.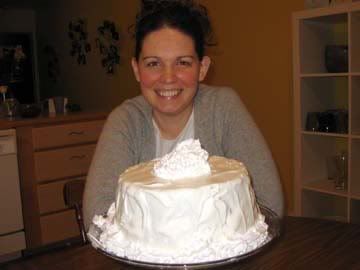 Tzarina and Miles joined us and Tzarina and I knit while Miles and the Duke played Scrabble (thank goodness Miles likes it too, as Tzarina and I both detest the game.) I got one sleeve set in, and the underarm is perfect! Not too low, as is often the case. I will share my secrets when I get the sweater done.
In addition to all of this,
An Ordinary Mom
and another blogless friend brought me flowers,
Lucy
and
Daddy Shark
called to sing a lovely Happy B-Day duet to me, My parents and grandparents called on speaker to all sing together for me (and remind me that I am not getting any younger and they want grand kids ASAP- such love!)
It really was a great birthday, the best I can remember.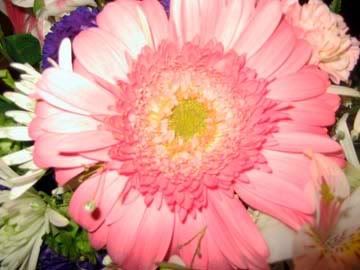 Last but not least, here is the finished lace weight single from the Wensleydale
Grafton Fibers
batt I have been spinning. You would not believe the shine on this, it's so pretty. It will be set aside for some very special lace knitting.