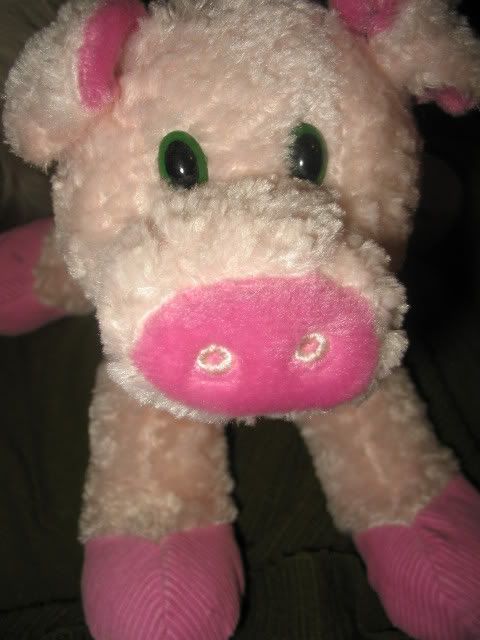 Happy Chinese New Year. It's the year of the boar. While I was not born in a year of the boar (I in fact am a sheep, evidently, although I know little to nothing about the Chinese zodiac,) I do have a special place in my heart for pigs. And now I will have a little piglet nephew to love. Yes, the royal little baby of Princess P. and Prince B. will be a little bouncing baby boy! I all ready have projects lined up for him, starting with this, only in a nice brown.
This book
is adorable, I'm sure he will be getting other knitting goodness out of it.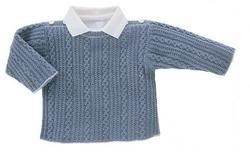 Continuing, for the moment along the pig thread, the Duke and I have this print hanging our our wall. It is called
Kohler's Pig
by Michael Sowa and at our house we like to think that it is pig heaven, where pigs come when they die. It is here that they can fly.
Why do I like pigs you ask? It has to do with the legend of Carcassone
In 760, Pippin the Younger, king of the Franks and father of Charlemagne, had recaptured most of Southern France from the Saracens. But the impregnable fortress of Carcassonne resisted. According to legend, a Saracen princess named Carcas devised a ruse to save the city. After a long siege, she used the last sacks of grain to fatten up a pig, and then threw it over the ramparts. Seeing such a well-fed pig, the assailants gave up, thinking the city had enough food not to surrender for a long time. Carcas rang the bells to celebrate, and the city was named Carcas sonne (Carcas rings).
(http://www.bootsnall.com)


The Duke told me this story at a difficult time in my life. Now, when I am having a hard time, I think of Carcas and her pig who together saved the city. I realize this didn't end so well for the pig, that is why we have the painting in our house where pigs come to live in peace and happiness after they die.
Anywho, moving on. I listened to
The Story of Dr. Doolittle
by Hugh Lofting. It was sweet and while not the most enthralling of literature, was enjoyable. It has a baby pig name Gub-Gub in it.
So, in honor of the Chinese New Year, which I love because it's like another chance at the fresh start that I always somehow miss in early Jan., I thought I would pull out my various WIPs.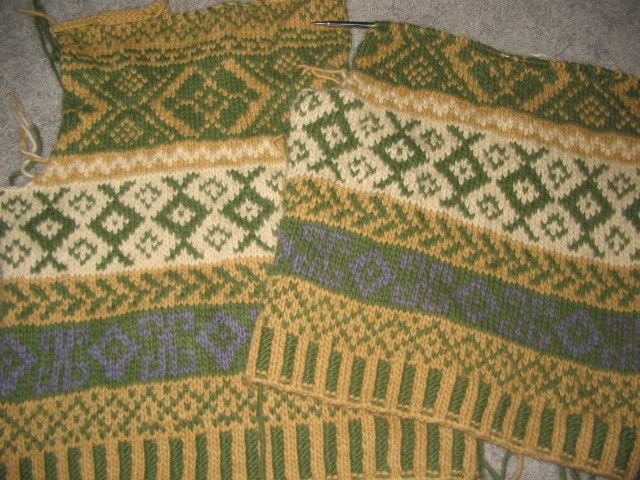 Sebastion- on the needles since Nov. I will get this done soon, I swear.
The Duke's Aran Sweater- considering I've had to do "cable surgery" on it three times now, it's moving along, slowly, but surly.
My Eco Sweater is DONE! YIPEE- it just needs a closure of some sort, I'm undecided as to what it should be.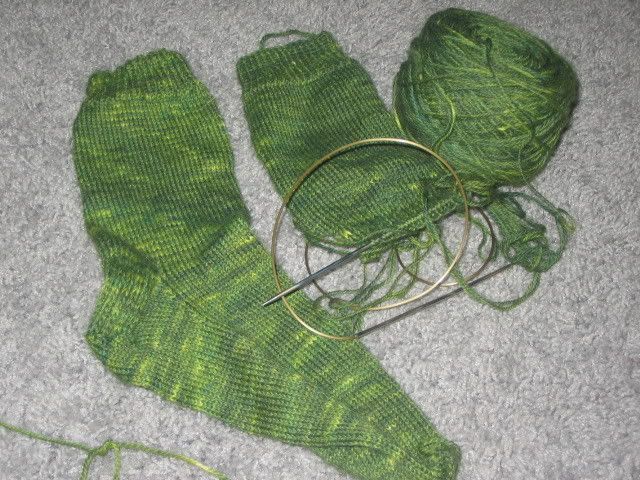 Green Socks (done in my own hand dyed yarn.)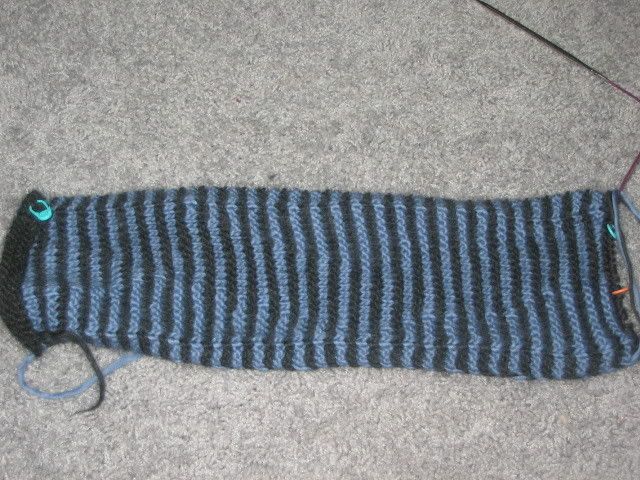 The Shadow Scarf
My scarf which if I hadn't made myself insane enough knitting endless rows of garter stitch, then I decided it needed a crochet edging. Slowly, yes, but coming.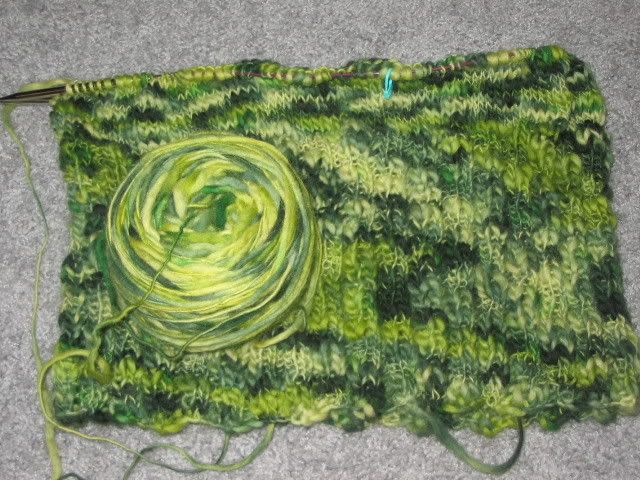 Here is a simple raglan that I cast on for last night. The Queen Mother Knitter sent me the yarn and the pattern as a b-day gift, and I needed some mindless knitting last night, it was perfect.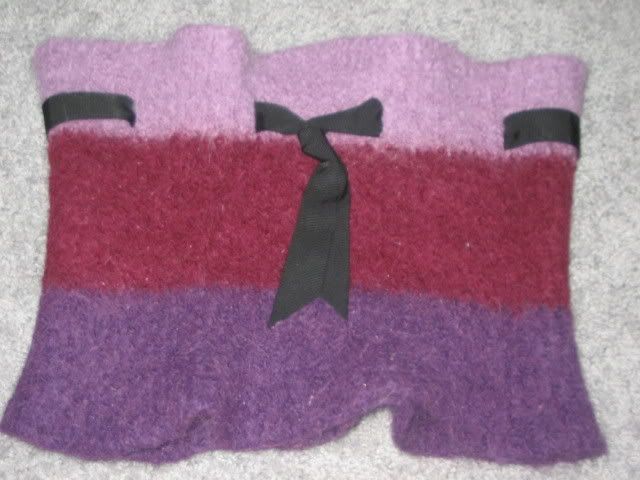 Last by not least, here is my nearly finished tote for the International Tote Exchange III. It just needed the bottom ribbon and handles. I hope my exchangee likes it.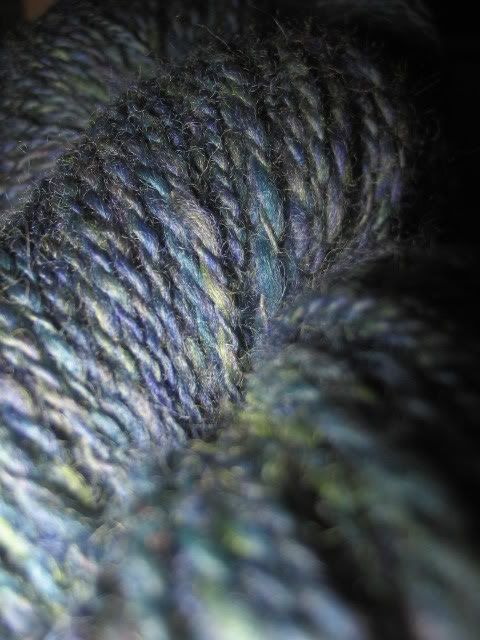 And to finish off with some more randomness, this is my latest hand spun, 2 ply, 12 wraps per inch, spun from a
Corriedale Grafton Fiber Batt
. So nice.
And here are some adorable pictures of my two little beasts. Click
here
to visit my latest photo set of my cutie pie pups!