I'm still here, or rather, I have returned.
The Duke, the alien and I spent the last week in Seaside, OR with the Duke's family. It's a yearly trip that we always greatly enjoy. I did take my camera, but didn't even pull it out of my bag, so no pictures. Seaside has been well documented though, and you can enjoy a bit of the beauty
here
if you so desire.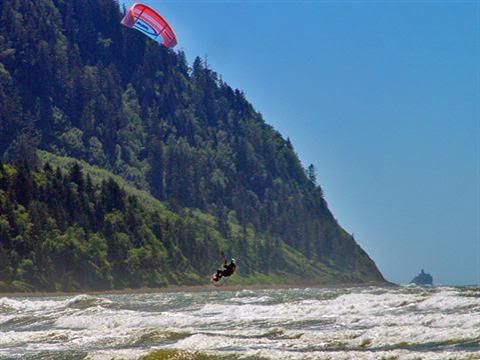 This is what we see from the window of condos that we stay in. Lovely, no?
The best part about Seaside is the temperature. It was between 68 and 75 degrees F. (20-24 C.) the entire time we were there. PERFECT! It was not so nice to return to 96 F. (36 C.) Seattle yesterday. The dogs and I spent the day trying to keep cool which included a trip to Lake Washington where even Logan went swimming without me throwing him in, watering all the plants in the backyard while periodically watering ourselves, going to get a Slurpee (it was 7-11 day,) and hiding in the bedroom, the only air conditioned room in our house.
Even the alien is too hot. He doesn't move unless we are in an air conditioned room or car, poor alien. He's probably half boiled. It sure feels like it. No matter how much ice water I drink or how long I sit directly in front of the air conditioner, my belly still feels like it's overheating. BLECH!
Anyway, on to knitting news, there was a lot of vacation knitting accomplished, and I will show it off in the next day or two. I also purchased some vacation yarn and the Duke and I made a very very cool acquisition for the alien, I can't wait to show you.
In the mean time,
Princess P.
and PBTB went for a 3-D ultrasound. If you want previews of little W. check our her blog!