The return of the Chorea, of course, means even less knitting than usual, as the weakness and soreness it causes aren't friendly for knitting.
Luckily, as of today the progesterone levels in my body seem to have dropped sufficiently and I am tired, but feeling better. Thank you to everyone who has offered support/ advise. I'm a strange case, that is for sure. You see, I would love to use a non-hormonal form of b/c, but that isn't an option, unfortunately, as I have (suspected) endometriosis and need some level of hormones to control that. Before I got pregnant that wasn't a problem, but now my body seems to have become overly sensitive to even low levels of progesterone, so it's tricky. We need to find a way to get me a high enough dose to control my periods, but low enough that it won't trigger the chorea.
So, after a giving my body a few days to recover, the next step is to try a Nuva Ring to see if a localized dose will hopefully NOT result in the stuff also effecting my brain.
Now, isn't that way more than you ever wanted to know about another person's reproductive health (or lack thereof.)
Well, to make up for it, here is a WIP photo of the socks I am working on.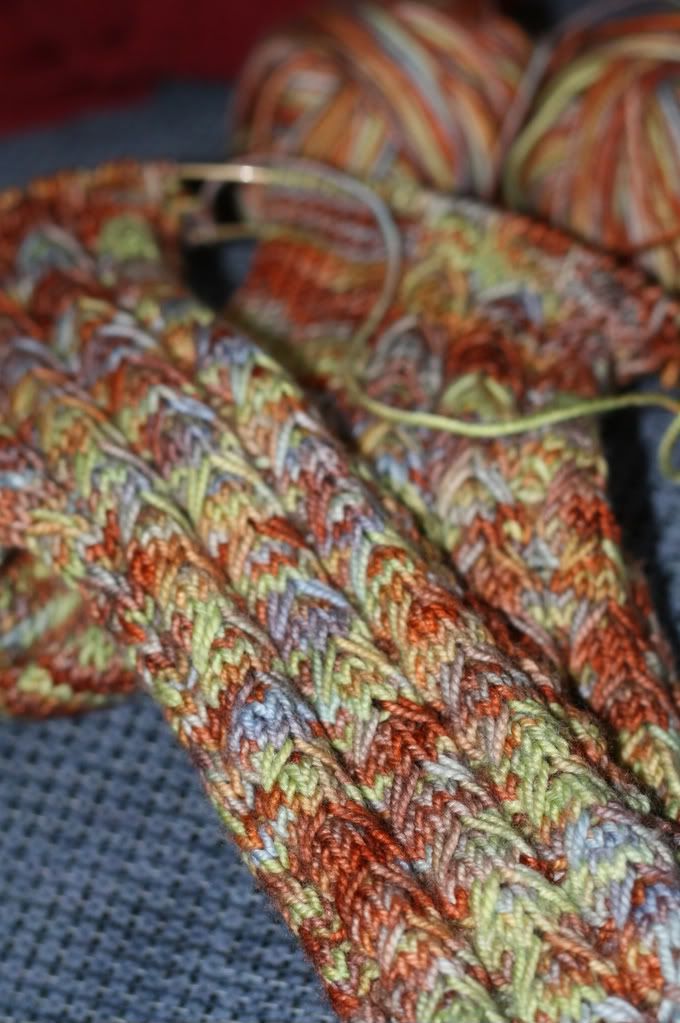 They are the
Slip-Stitch Cable Socks from The Little Box of Socks
. (ravelry) I took this yarn with me to Utah and then looked through the Queen's voluminous sock pattern library for a pattern that I thought would go well with the colorway. (BTW- it's STR-lightweight, a rare gem- purchased at OFFF.)
This is the first time I have ever knit two socks at the same time on magic loop. I've knit two sleeves this way before, and just thought they dragged when done together, but I have been suffering, as-of-late, from some Second Sock Syndrome problems, so I decided that I would have to force myself to knit them at the same time. It actually isn't too bad. They are smaller than sleeves and have the heel to break it up, so they are going pretty fast (well, taking into consideration that I haven't really been able to knit for a week or so.)
I'm happy with them.