In this corner we have the Ultra Feather Weight Champion Time Snatcher: Little Sir.
In this corner we have the Ultra Fiber Weight Champion Time Snatcher: Knitting and Spinning.
I will give you .37 seconds to determine who is going to win the title of All Time Ultimate Time Snatcher!
Here is a sweater that I started sometime during my pregnancy.
The bottom is my hand spun, the top is Cascade 220.
When these photos were taken I had run out of yarn with about two inches of the sweater to go (it was knit bottom-up so two inches of small neck rounds.)
It took me about 3 days to make it to the yarn store to get the yarn needed to finish the sweater.
It took me another 4 days to get it wound into a cake.
It took me about 20 minutes to finish the silly thing.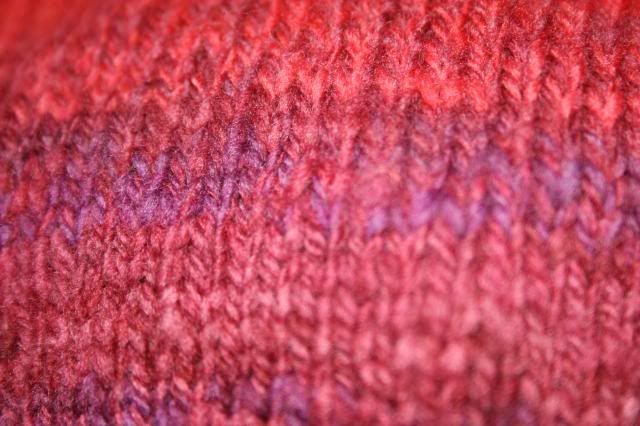 I will have FO pics, oh you know, as soon as I can find time to put the sweater on, try to get the Duke to take more than 2 photos for me to choose from, when it's light outside (it was still light at 5:00 pm today- YAHOO!) and manage to do it all without getting spit-up on.
So what I'm telling you here is, don't hold your breath.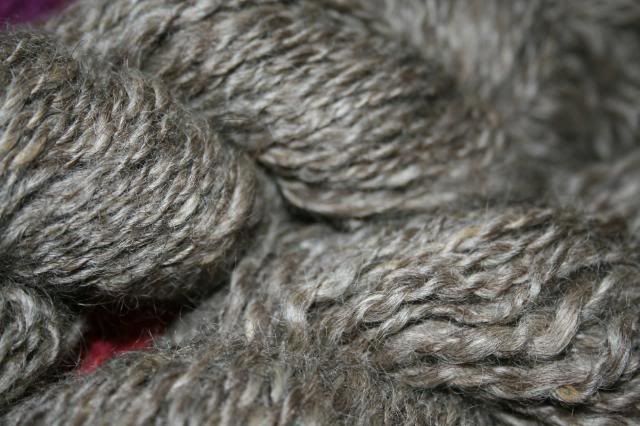 I did get a tiny bit of spinning done as well. This lovely BFL that
Sarah
brought me while I was frantically searching for ways to keep my sanity that didn't involve my pregnancy disabled hands, has been in single form on bobbins for many a moon now. It was time to ply some of it. It's lovely. I just love the color.
I went to Spinning Night on Friday as well, and got a very small amount of spinning done, but it did feel good to have my right foot being used in yarn production as opposed to sleep production (I often use the same treadle motion on Little Sir's bouncy chair to lull him to sleep.)
Superwash Merino singles, destined to become a two ply sock weight.
And there you go, a full fledged fiber post.
Wait until you see what craziness I am planning next. . .