I've been spinning like crazy at night after Little Sir goes to sleep. I'm very excited about the new project that I started tonight. I'm not going to show it to you until it's all done, but I am documenting it as I go.
Also, in my rush to get what I was spinning off of my bobbins I found out that flyers can actually fly. Yes, I spun my flyer off of the wheel and across the room, not once, but twice. You would think that I would have gone and gotten a screwdriver to tighten the maiden bars after this happened once, but no, my impatience to get the new fiber on the wheel clouded my brain from realizing that if I didn't fix the problem, it would happen again.
(If this is all jibberish to you and you want to know what I'm talking about,
here
is a picture of the flyer and bobbin assembly on a wheel similar to mine. You can see one of the maiden bars in the upper left of the photo. It's the vertical cylinder piece of wood that is slightly darker in color that the rest of the wheel.)
So here is what I finished tonight before I started the new project
You'll remember it was this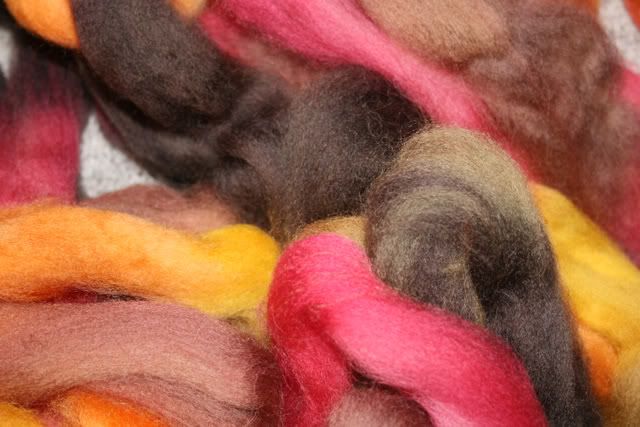 singles on the bobbin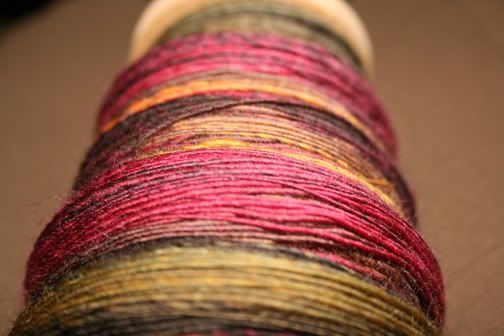 plyed on the skeiner
skeined
and detail
I also found the info on the fiber. It is Sarah Anderson's from Great Balls of Fiber (who sadly, still does not have a website.) It is colonial superwash- which means I probably originally meant to spin in into sock yarn- oh well, too late now- in colorway "Oktoberfest".
It is a 2 ply DK weight about 300 yds unwashed.
Stay tuned for more spinning adventures that hopefully don't involve flyers flying anywhere else.