We all had our own private doubts, but it has finally happened.
That's right, Sebastion is done, finished, completed.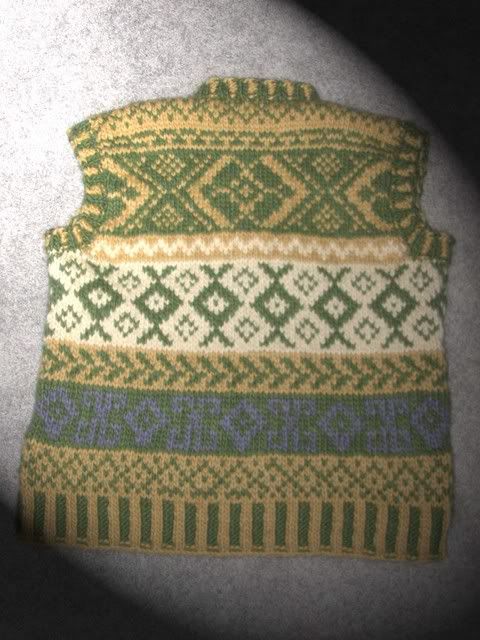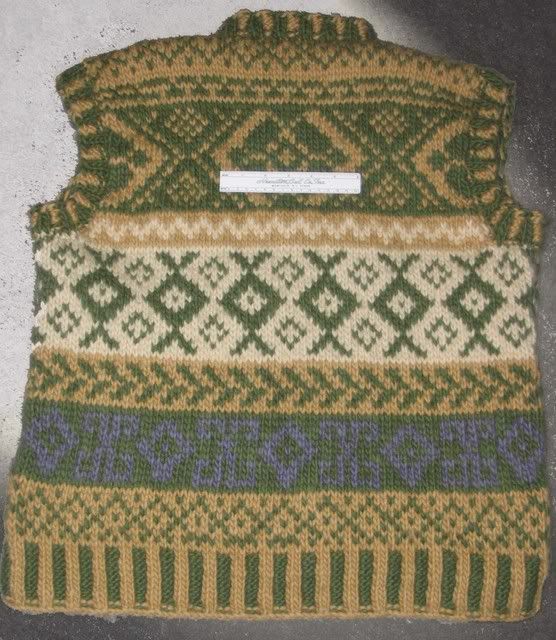 A perspective shot for you. That is a 6in (15cm) ruler sitting on this BEHEMOTH.
The pattern is Sebastion from Rowan's Arabesque magazine. Knit in Rowan's Little Big Wool, colors 508-Amber 5 balls, 509-Topaz 6 balls, 505-Jasper 1 ball, 507-Moonnstone
2 balls. Needle sizes US 11 and 13.
Notes: I knit the front and the back, and then seamed it all up, which is not what the pattern says to do. So much for reading the pattern. I have no idea why they want you to knit the neck and arm ribbing flat and then seam, but I didn't. This also resulted in the er- quirk that the colors of the verigated ribbing on the neck and arms are opposite of the ribbing on the bottom. The pattern gives you directions to start on the wrong side, so I followed it, not realizing that it was for flat knitting- so there you have it.
If you want to see this fabulous fair isle in person, it will soon take up it's residence at Hilltop.