It seems that I am motivated by rewards. If I have a long list of tasks ahead of me, I divide them up and then promise myself that after I have completed a certain amount, I get a reward. Usually this reward revolves around fiber.
1. Tasks: Scour both bathrooms (bathtubs, floors and all) take a shower and get ready for the day. (I must clean our bathrooms before I shower for the day, otherwise I feel like I missed out on showering in a clean shower.)
Reward: Spin half of the recently dyed Lincoln/Cormo cross.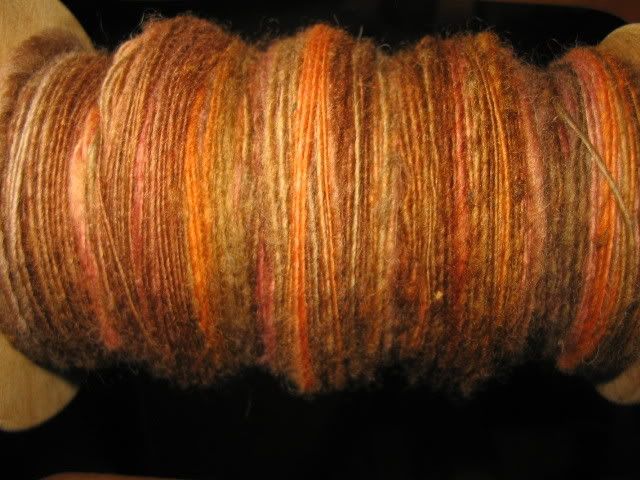 2. Tasks: Vacuum the main floor, clean kitchen, straighten family room, spot clean the tile.
Reward: Spin the other half of the roving
3. Get up early enough to get ready, eat breakfast, play with doggies, pack lunch, pack knitted items needing blocking, tape up packages for Bells and Princess P. (for her birthday.) and still have time left over to ply the two bobbins of singles.
Reward: Ply the Singles (really it was just the reward for getting out of bed early(ish)- which is beyond difficult for me most of the time.)
175 yds of light worsted weight from 110 grams (or 3.8 oz.) of fiber.
and a close-up
Isn't it lovely. I just love the colorway. I decided to call it Sandia. The Duke and I lived in Albuquerque, NM for four months after we first got married. Neither of us liked it much, with the exception of the beautiful and strange-to-us Sandia Mountains.
image from
wikipedia
So, if you are are a bandit, a lost dog, or a pile of dirty laundry, watch out, because the Duchess is motivated! Now, any suggestions on what my reward for finishing this never ending business plan should be?
One last thing before I return to the business plan, a silly pup moment from the living room of Yarnnation. The Duke is learning to play the guitar. It appears that music really does sooth the savage beast. Logan sat just like that, listening to him practise for about half and hour.