Pregnancy Update: Will someone please put me out of my misery? The super pill held less magic than hoped for. The nausea/vomiting continues. Six more days before I throw myself at the mercy of my doctor.
Anyway, this is a post about distractions. So far distraction, when possible, is the best medicine.
First up, upon arriving home from a walk yesterday, what do I find on my door step?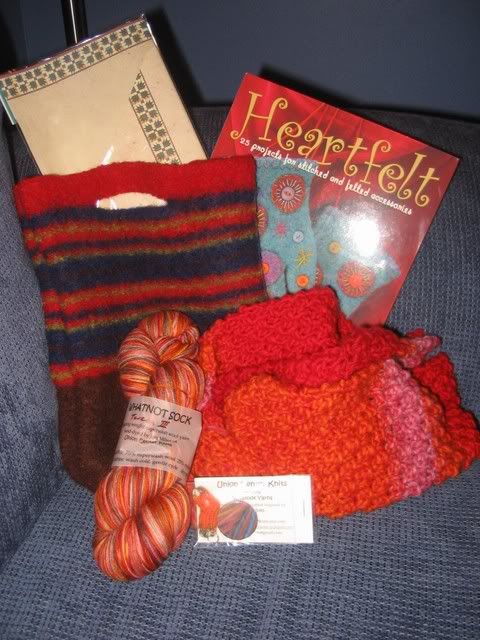 Oh yes, my Tote Exchange Package-
GO HERE
to read all about how wonderful my partner Teresa was to me and to find out where you can get that amazing sock yarn.
Fresh air seems to distract me for a time, and mother nature was decked out in full regalia.
(roll over the the individual picture to see the entire photo.)
Sunday's walk in the arboretum provided a very pleasant distraction, along with very happy and muddy dogs. We took them on their retractable leashes, such a great invention. They run forward and back, forward and back, covering 2-3 times the ground that the Duke and I do. Logan was so tired after a good long romp, that when the Duke put him in the tub to bathe him (something that usually results in hysterics) he just sat down in the tub and submitted. We even had a hard time getting them dry because they didn't want to run around the house for near as long, which is their usual method of drying themselves off. Instead, the Duke and I submitted to damp doggies on our laps and ran our hands through their fur to decrease drying time. As always, nothing make me happier than good tired pups!
I have been able to spin and bit and knit a bit less. Onesie painting requires so much less of my body and brain, so I whipped out a few more.
I may not find this as charming or hysterical in a few months, but for now, in my ignorance, I laugh each time I see it.
UPDATE:
hmmm, I don't know how the commenting got turned off. I did have a little technical dificulty with this post, but I wasn't messing around with the comments. Anyway, there you go, it's back on.