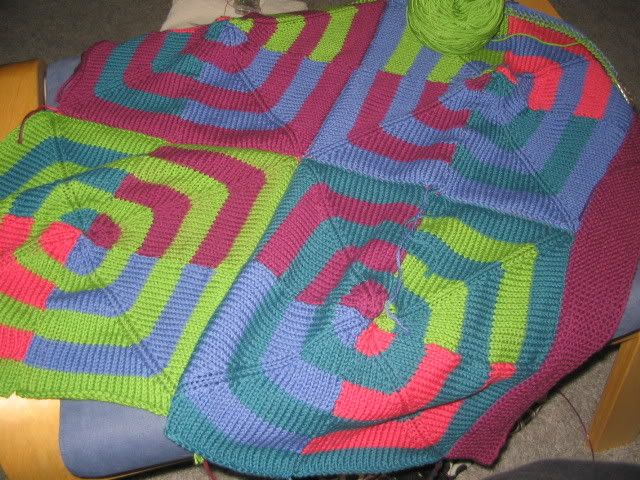 Go ahead, raise your hands, who thought I would never actually sew this thing together. *Duchess is raising her hand.* I know, I don't know what has come over me, but I was determined!
I have had an excellent couple of days. I haven't been very sick at all (quick, knock on wood.) I am still tired and a little nauseated, but not anything like what I've been going through the last three months and nothing that I can't "push" through. Although yesterday, I found that pushing a little too hard, as I am wont to do, leads to exhaustion such as I have never known. However, better that than sick.
I called my mom to thank her for the very sweet Mother's Day package she sent me, which, in addition to candy (including Smarties, my favorite, and the giant ones at that!) included
Favorite Socks: 25 Timeless Designs from Interweave
and and wonderful book by Jane Clayson Johnson
I Am a Mother
I read most of
I am a Mother
today. It is a charming treatise on the value and importance of Motherhood. There are also several socks I will likely knit from the Interweave book.
Don't I have the best Mom, well she is a queen, after all, what do you expect?
Anyway, she and the Queen Mother (my grandmother) were sewing. Well, actually they were making themselves crazy, but it involved a little sewing and that made me want to sew. The Duke and I are going to NYC later in the summer, and I have determined that the only way I will be comforatable is if I wear skirts the entire time. I have purchased some fabric for new skirts, but I had a skirt that had been languishing unfinished for months, so I decided to finish that before I started a new one.
Isn't it lovely, and I can't even wear it. Oh well.
I also started a new knitting project, or at least swatched for it. I don't know if I will actually cast on for it until the blanket is done. I also have to cast on for the second half of the Marcellina Vest, but that isn't' appealing to me at the moment.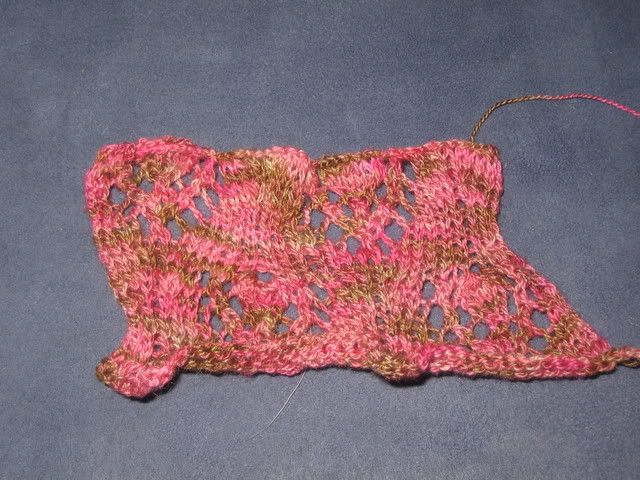 -unblocked, but more true colors
-blocked, but bad light.
It will be a rectangular shawl. I haven't decided on an edging for it yet, and I probably won't until it's well on its way to being finished.
So here's the math:
I want it to be 60 inches long without its boarder. The swatch is 7 inches, and is two repeats of the pattern. So 17 repeats of the pattern gets me 59.5 inches- close enough. There are 20 stitches, plus five to the pattern, so I will need to cast on 345 stitches, that sounds dreadful, doesn't it.
Now I would like it to be about 12 inches without its boarder and one repeat of the pattern is about 3.5 inches tall, so I will need to do 3.5 repeats, which actually works out fine, as the the half way point in the pattern works as a stopping point as well as end.
So, CO 345 sts, repeat pattern 3.5 times. The only question that remains is. . . will I have enough yarn?
So, the swatch is sacrificed, and we find that our swatch, which is 24.5 square inces (7 in width x 3.5 inch height) took 9 yards to knit
The shawl which is 12.25 inches high and 59.5 inches wide, has an area of 728.8 square inches. Let's round that too 729. So if 24.5 sq in takes 9 yards, 729 sq in takes [(729 x 9)/24.5] = 267.8 yds. I have 440 yards, so even if I am off by a bit, I should be fine, and still have plenty for a boarder.
YIPPEE, wasn't that fun?
Oh, and in case you were wondering the yarn is 50/50 Merino/Silk hand painted and purched from
Merlin the Cat
.
She has lovely stuff at very very reasonable prices. Yarn, fiber, and darling stitch markers. THANKS MERLIN!