Warning- lots and lots of photos ahead.
Some of you may remember last year when I had a moratorium on casting on until the WIP inventory was down. . . WAY down, like ZERO. Now how does one know when it is time for such drastic actions? Well it's kind of a feeling and then there are signs. . . you can never find the needle that you need even though all your needles are put away (except the ones being used,) you have three knitting bags and a project basket all overflowing, you find projects that you forgot you started.
I sensed it was coming and finally I could fight it no more. Here is an official Yarnnation WIP inventory. I've held nothing back.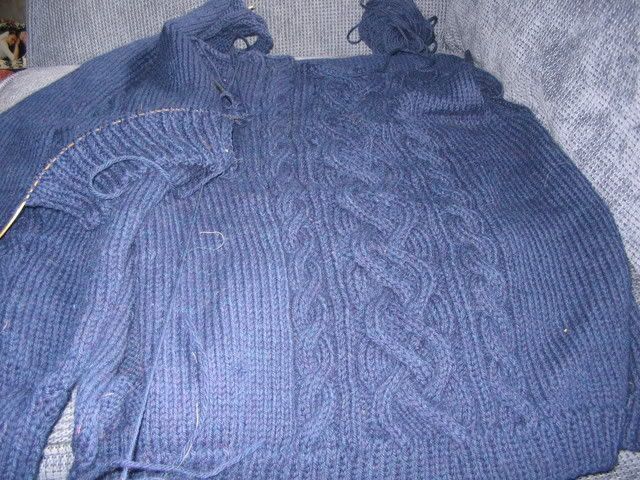 This is the Duke's aran sweater. I started it, well, I don't remember and I can't find it on my blog, but I think it was last fall, early. I only have most of one sleeve left to do, and of course the sewing and finishing. I'll try to finish it in time for our beach trip in July, where it will probably be cold enough to wear it.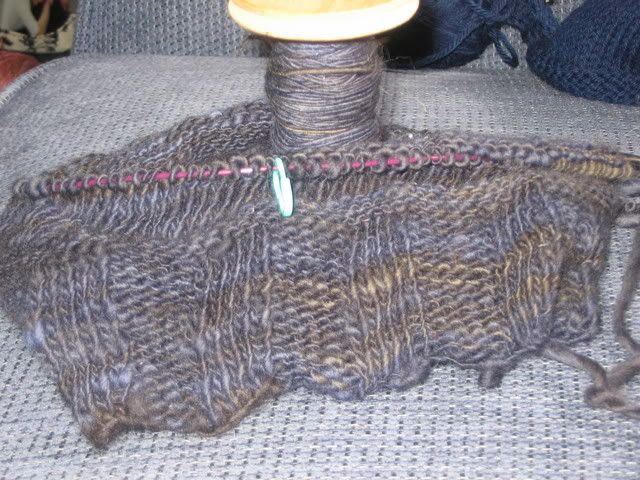 This is a hat for my little brother. This is the fifth attempt if you can believe it. It has been langushing because I am not sure he will like it. It isn't at all what he asked for (um 18 months ago,) but the pattern he wanted was a catastrophe. I tried to knit it three times, it was awful. Anyway, it's just a hat and if he doesn't like it he doesn't have to weat it and I'll even knit him something else if he chooses a better pattern.
This is the headband portion of a scarf, mitt, headband set I knit myself from my own handspun last winter. I've worn the scarf and mitts a lot, but I never got around to sewing in two measly ends on the headband. I'll do that tonight.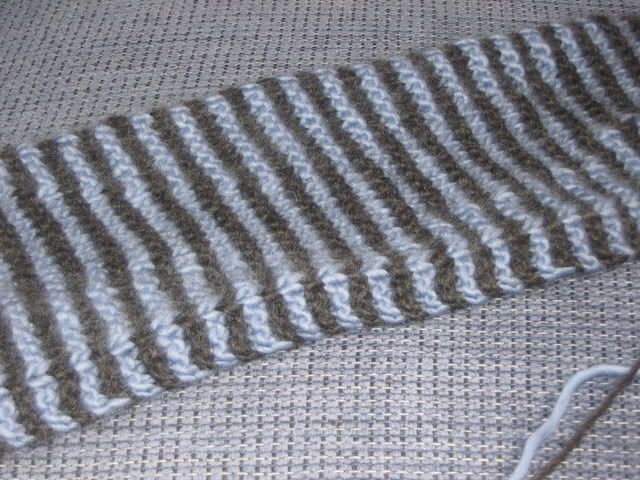 The Duke's shadow scarf. I think I have decided that the scarf is too skinny and the colors to contrasting for the Duke. I think I'm going to rip this out and use different yarn. I'm still deciding for sure.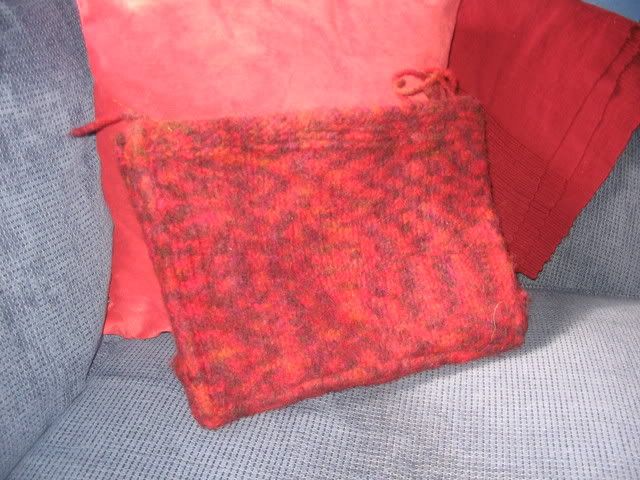 This is a felted red bag that just needs handles and a little shaping, maybe a lining. -Why, what every do you mean? No, no, I don't have a finishing problem.
This is the second in a pair of leg warmers. It is my handspun and I ran out. I have more of the batt and can spin more, and that is what it is waiting for. I'm afraid this one will continue to wait for a while, as I am still not able to spin.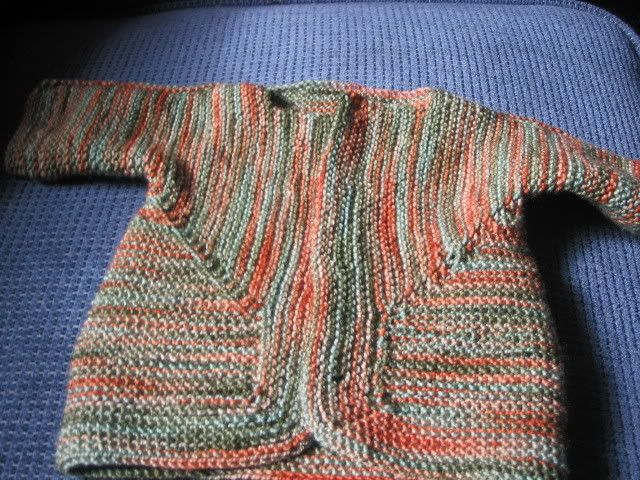 You've seen the baby suprise jacket. It is waiting to be assigned a gender to receive buttons and an edging.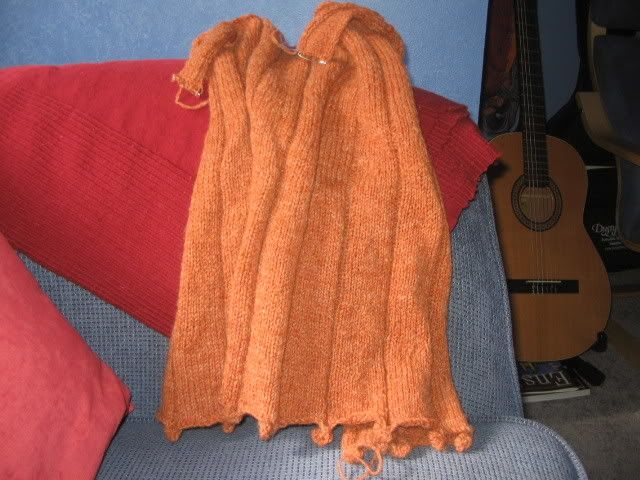 Yes, yes, the Marcellian Vest. I just need a break for a while, it's a big ol' bunch of ribbing that I am in still in recovery over.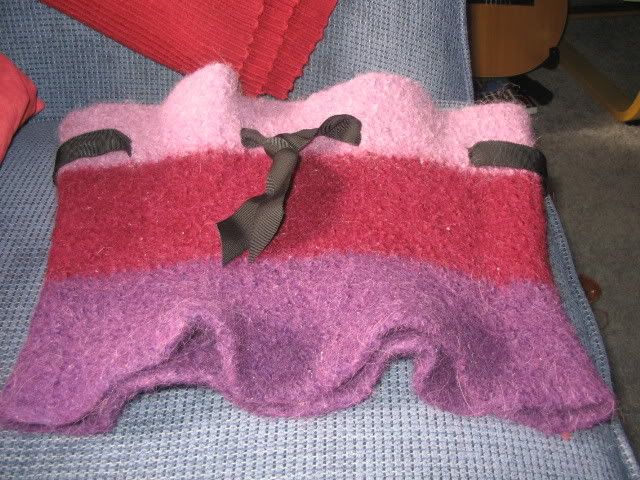 Oh, yes, I have a problem. Another adorable felted bag that just need the bottom sewn up and the handles attached. Go figure. I'll add it to the top of my list.
You know you have a finishing problem when you have a finished sweater that only needs ends woven in, two tiny underarm seams sewn and a little blocking to be done. I haven't been motivated because I can't wear it right now, but it's an easy one to get off the list.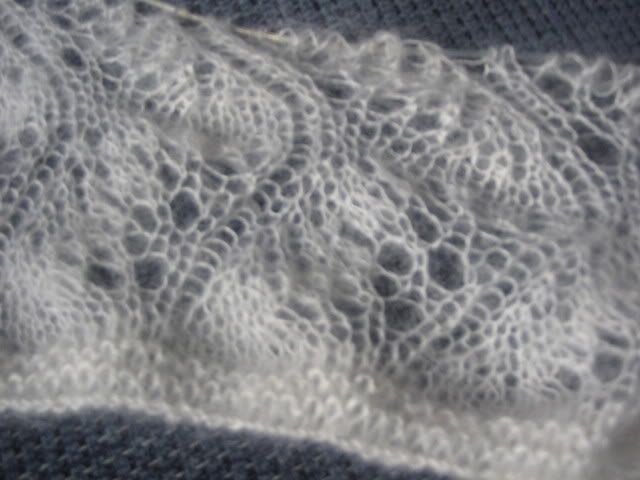 This is a shrug knit in japanese lace stitch. At this point it is nothing more than a swatch and I think I may bind it off and just use this portion as a swatch until I am more commited to the project.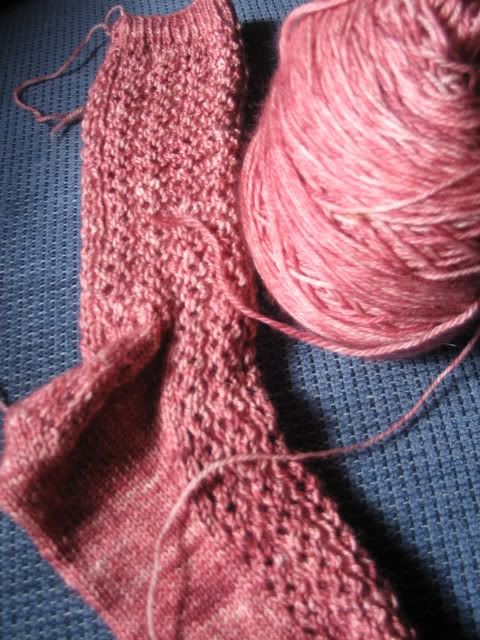 One finished GO WITH THE FLO sock, and another one coming soon, I hope.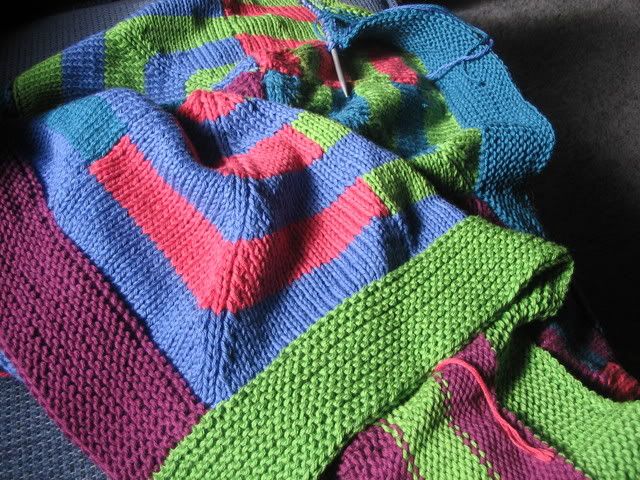 A nearly finished baby blanket that has stalled. Just need the last part of the boarder knit and a very few end secured. I actually still have two weeks on this one, as the goal was to have it done before we knew the sex of the baby, and that is two weeks away. I won't miss it though.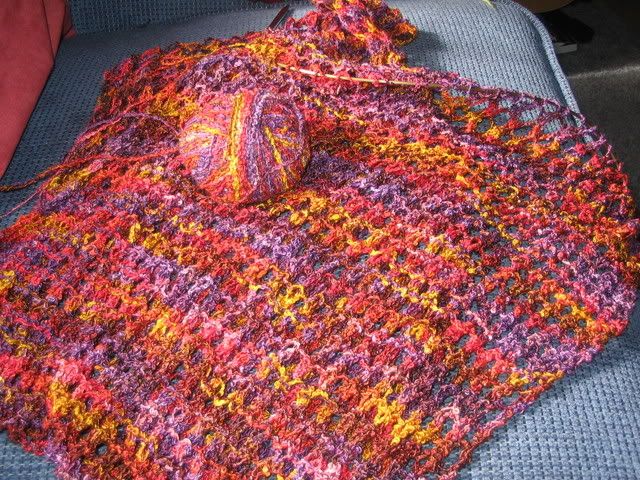 This was started last summer. It's a wrap in Handmaidens silk rummple. I took it to class tonight and worked on it. It is actually very close to finished as well.
I am half way through the crochet edge of the insanity scarf still. I need to pull this one out. I kind of forgot about it, not really needing scarfs right now, but it will make a great "conversation" project.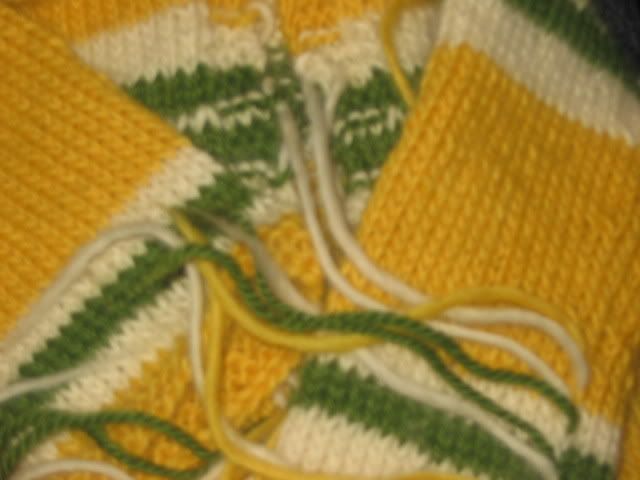 Now here are the two projects I have been holding out and waiting to show you. The top one is waiting for buttons but other than that is completely done. The other, yellow, needs a zillion ends secured, but the knitting is finished.
SO, that makes 17 projects in all. SEVENTEEN! I must be insane. OK, I am going to get down to 12 by the end of the week. That is my goal, do you think I will make it? We'll see, it all depends on how naughty the alien is this weekend.
Tomorrow I will go for buttons, that will be at least one down, and something darling to look forward too.
SEE YOU THEN!