It was a beautiful day in Seattle today. I took my not so beautiful marketing reading out into my sunny backyard, rolled up my pants, and remedied the "I haven't seen the sun in nearly a year" look I had going on on my legs. Yes, I used sunscreen, I actually don't like to be very tan, I think my particular skin looks better a little on the pale side, but the color of my legs was more like what you might expect in a morgue.
I also indulged in a little knitting time, and convinced the Duke that we both needed a walk on the beach. We only live five min. from several beaches, it's a shame we don't remember to do this more often. I forgot my camera, but imagine:
fine sand between my toes
my sweetie, removed from all distractions
sun and a crisp sea breeze
and the entertainment of what we finally surmised must have been a beginning sail boating class, the instructor seemed terribly stressed, lots of fog horns sounding.
It was heaven for an hour, and we needed it.
The baby blanket edging is moving forward, but it is boring, so some socks have been started to keep the sanity flowing, if even a little bit.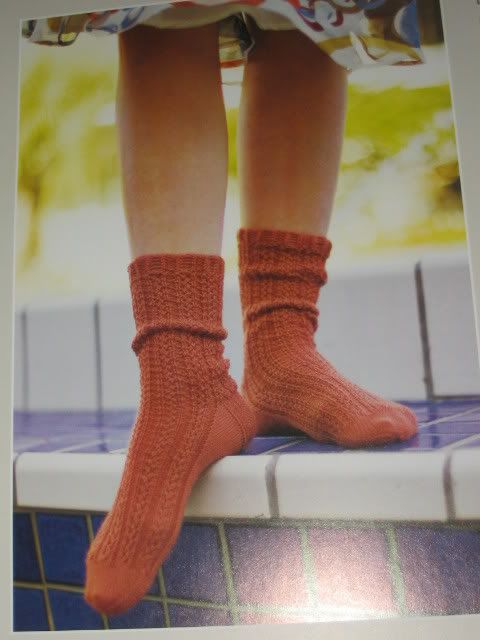 Go With the Flow socks from Interweaves
Favorite Socks
.
less knitting but a more true representation of the color.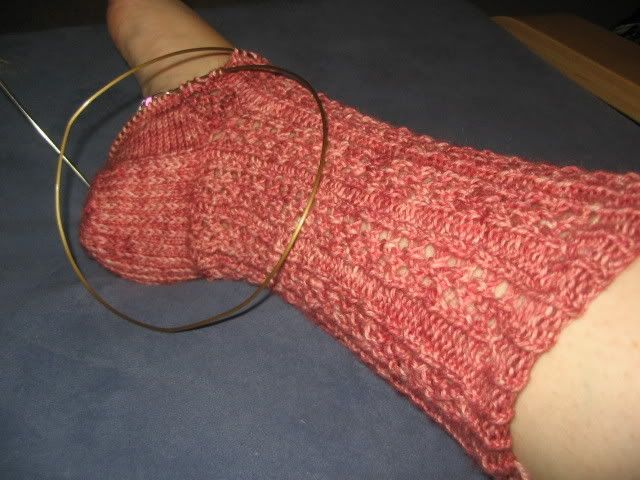 This is yarn I dyed myself and I must say that I am love-love-loving how the color is knitting up. I think it might be the perfect semi-solid pink, which of course means I'll never be able to duplicate it! Such is life.
Note on the pattern: As the instructions read, the pattern on the upper part of the instep calls for 2 stitches fewer than the complete lace pattern, so I added two stitches to the upper part and will simply decrease an additional two stitches on the lower part.
Also, I wanted to mention that I listened to Willa Cather's
O, Pioneers
! as I knit the Baby Surprise Jacket. It was wonderful. It may be the model for the perfect book for me. Fiction, yes, but a classic, so it's mostly forgivable. Naturally it is beautifully written, descriptive without being over the top, and kept my interest throughout. The main characters are well developed and more or less 'real' although I did wonder about the lack of weakness in the main character, Alexandra. It is revealed, but only partially, and near the end. Some of the lesser characters are flat, but that is fine with me as I don't like lengthy descriptions and set ups. The end is what really made this book for me. It was real without being overly tragic or sappy. It didn't end with a shock, which I hate, as life never ends with the climax, there are always consequences and effects, this book lets you see that too. I enjoyed it thoroughly.