I know, I know, the world would be in a world of hurt without them, but honestly, when they attacked my bladder, they just went too far.
That's the diagnosis. We were fairly certain of it when the doc pushed (from both sides mind you) on my bladder and I nearly passed out. I have a strep b. infection in my bladder. It's a problem that is fairly easily fixed (thanks, dad.) Unfortunately, I tend to expel all orally administered antibiotics, so we asked my doctor for an injectable and he obliged by sticking a needle in my butt. That's good with me. I go back in a few days to see if it's gone or if I need another dose.
This type of infection can cause pre-term labor (bad) so it's important to get rid of it (not to mention the fact that I AM IN PAIN.) However, it is a pretty easy bacteria to kill (good.) It also means that I will be administered preventative antibiotics when I go into labor for (hopefully) four hours prior to delivery, as strep b is bad bad bad for baby (bad and good - bad that I have to have an IV but good that we know about it so baby doesn't get sick.)
Deep breath, and OK, I can handle all of that.
The Doc (who I love by-the-way, if you live in Seattle and you get pregnant, email me for a referral, this guy is great) also gave me a slip for an ultrasound, but wants us to wait til I am 18 weeks. So, we thought we would make a week from this coming Friday an extra big day. The Duke is graduating from Pharmacy school, tons of our family will be here, and we'll get to see the little alien and hopefully discover if it's a boy alien or a girl alien.
Thank you all for your good vibes and wishes. I did attempt to knit away my anxiety. . .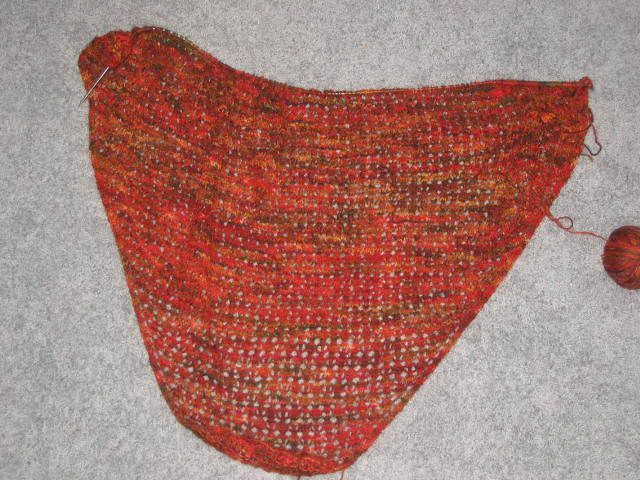 This is a the nearly finished Charlotte's Shawl. It's going to be BIG.
I also cast on the second Go With the Flo sock and knit several inches as well as knocked a few more items off my WIP list.
I finished the yellow and green baby sweater and ripped out the Duke's shadow scarf. That gets me down to 10 including the Shawl, progress, but still more work to do.
Again, thanks for all of the happy thoughts you've sent my way.