Friday night I commented to
Sarah
that no one could tell that I was pregnant, that I really wasn't showing at all yet. I'll omit her explanation of that phenomenon.
Saturday I got up and put on a skirt and a stretchy tailored tee shirt. When I looked in the mirror something was different. OK, now I know what they mean by POP!
Just so you know the dark spot on my belly is a birth mark that I am very fond of. It's a little stretched out right now, but look closely and you can still see that it is in the shape of a Scottie Dog. His nose if facing my belly button.
There is also a knitted item here in Yarnnation that underwent a sudden and dramatic expansion.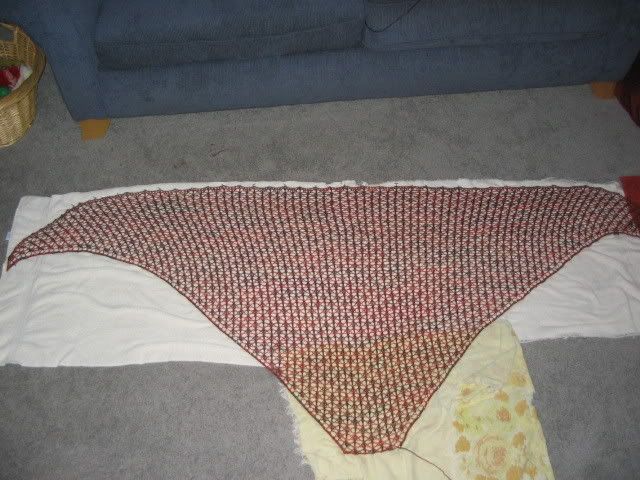 Here is the finished Charlotte's Shawl blocked to within an inch of its life. The strange happenings at either end there are a result of binding off too loose. When does that happen? I didn't fix it because I thought it might help it stay on better and I didn't think it would bother me. We'll see.
The finished measurements are about 37 inches tall and 96 inches wide. It is big, as predicted, but surprisingly, it isn't as big as I thought it was going to be.
One last thing, probably in a sick attempt to make sure that I have too much to do in the ensuing months (again that fear of nothing planned,) I have started another blog. I know, I'm crazy. It is true that I all ready have two blogs, but I don't often post to my second blog, only when a though or experience warrants it. This blog is a "down to earth," Seattle area, restaurant review blog. Here is what lead me to conclude the Seattle area needed such a blog.
I have been looking for several days now for a restaurant in the area that meets the following criteria:
1. Northwest or Italian Cuisine of good quality,
not
a chain
2. Moderately Priced
3. Can accommodate a party of 17
4. Takes reservations for Friday evenings
5. Isn't too noisy
You would not believe how difficult of a task this is. I did come across three new blogs to follow in the process, but none of them could help in this task. I am going to check out one recommended by
Jessica
tomorrow, and my hopes are high. However, there was nothing on the Internet that could answer my particular questions and concerns, and so it began.
Check it out if you are so inclined.
The content is limited right now, of course, but will grow over time.