The names
The drawing- out of a knit mitten (it is Yarnnation after all.)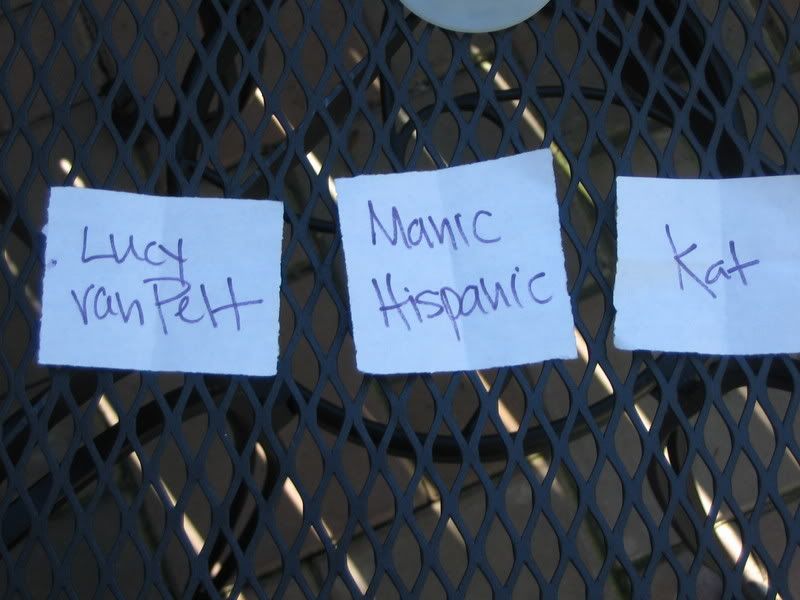 And the winners are:
1st: Lucy van Pelt
2nd: Manic Hispanic
3rd: Kat
YEAHHH Happy Birthday.
So Lucy, let me know which gift you want.
Now, moving on to yesterday's activities. First, we (The Duke, friend J., and myself) went to the post office to pick up a much anticipated package.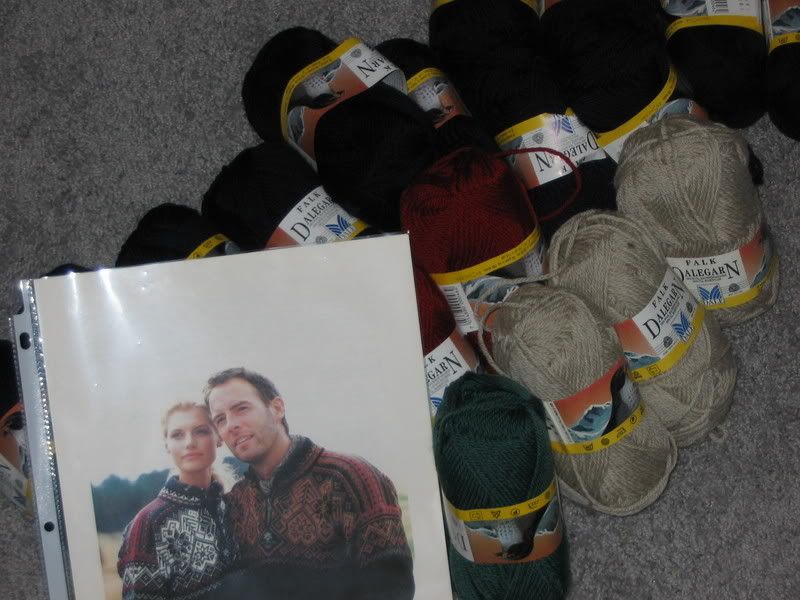 It is the Duke's early Christmas present. The Dale of Norway 2002 SLC Olympic commemorative sweater pattern and yarn.
I had a hard time finding this, but finally found it at
Allegro Yarns
. I was a little bit miffed that she sent me the wrong cream and red colors. The red is actually fine, but the cream really needs to be cream, but an internet search should remedy this. Also, she didn't have any patches left, as it has been a long time since they were issued. I just figured that I would search for them on them on ebay.
Here is the close-up of the photograph. He is getting the navy one that the woman is wearing.
So, then we took off to Poulsbo, WA for a day get-a-way. I visited Wild and Wooly, where, as usual, I didn't buy anything. I am not a big fan of that particular yarn store. There is another one in town called
Amanda's Yarns
which I had never been too, as I am usually there in the evenings after she is closed. I walk in, and lo and behold, what do I see, the SLC Olympic Sweater all knit up! I also find some lovely sock yarn from
Nature's Palette
.
I go to the register to pay and I start talking to the owner, Amanda, about how just that day I had received the kit to make the SLC sweater, and how exciting it was to see it in person.
Then she asked if I got the patches. I told her no, Nora at Allegra Yarns had said she couldn't get them anymore.
"Oh Really," says Amanda as she opens up her drawer and pulls out a small plastic bag. She opens it and produces. . .
THE PATCHES FOR THE SLC SWEATER!
Can you believe it??? Isn't that the defenition of serendipity? The very same day I get the kit for the sweater, and the main patch is even the right color. The Dale patch for the sleeve is gold instead of silver, but I'm not complaining. No, not one bit.
The rest of the day was spent happily frolicking around Poulsbo and Bainbridge Island (after a few short business meetings.)
We went to a pumpkin patch and picked out our pumpkins. We also ate at a great recurrent called "
Winslow Way
." I highly recommend it.