So, now I know the true sacrifice it is to knit for your tall, broad shouldered, or in other wise giant hubby.
This isn't for my med. sized Duke, but for Jen's husband. He will be modeling it in our up coming fashion show on Nov. 2. (6:00 at Hilltop, see you there!)
I had the good fortune of having class let out after only 45 min (normally a 2 hr and 40 min class.) This lead to some good knitting time, thank you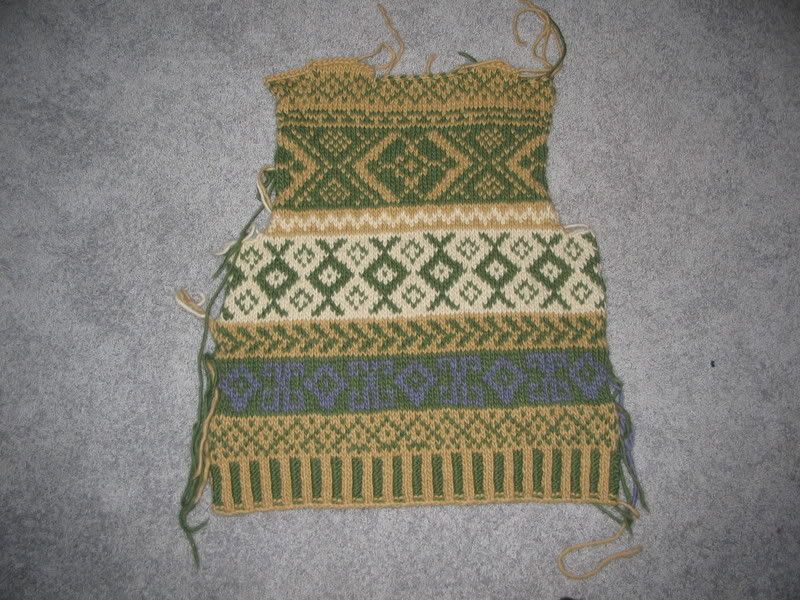 very much Carly Fiorina, former CEO of HP. (She was speaking at SU. We were released early so that we could attend, and me being the huge fan of cooperate America that I am, decided I could skip this one.)
And a few random things.
1. You may have noticed that I have a "finished projects" link and a "patterns" link on my sidebar now. There isn't much in the finished projects as of yet. I may or may not be adding previously finished thing to it, but there are two of my patterns available FREE, FREE, FREE under the patterns link. Help yourself, the only thing I ask is that you give me credit and link back to my blog if and when you post your project.
I will also be adding links to where you can buy copies of my other patterns as soon as I get the new Hilltop Site up and running.
2. Tzarina sent me this crazy link, you have to check it out. This lady (
Lauren Porter
) was crazy and dedicated enough to knit an entire full size car. Granted, she had help, but I have a hard time knitting a sweater, for heaven's sake.
3. My mom, The Yarn Queen made her debut into the bloggin world today. Visit her
here
.
OK, off to do some more knitting.