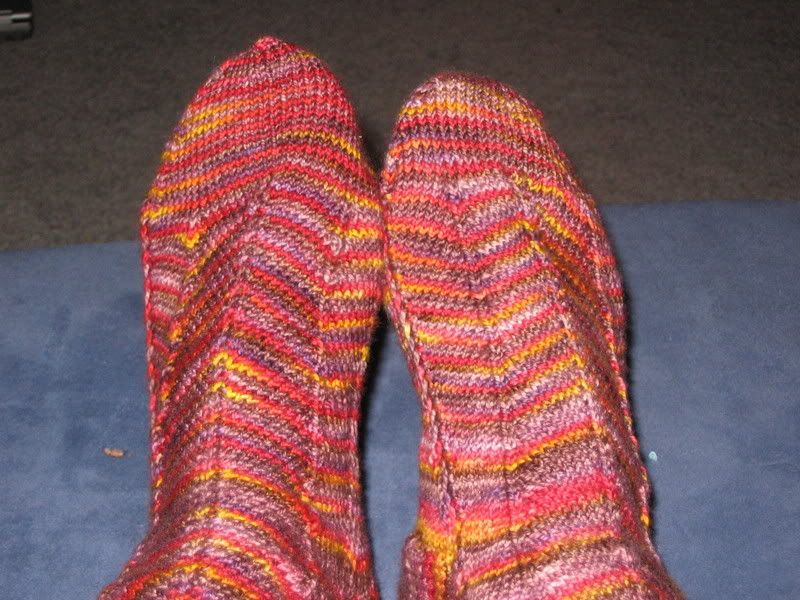 Here they are, one pair of finished socks for Socktober. Aren't ya'all proud of me, well you should be.
Here are the specs:
Patterns:
Jay walkers
by Grumparina
Yarn: "
Merino
" by Fleece Artist
Color: I think it was "vintage" but it isn't on their website anymore. Sorry.
New Skill Learned: Magic Loop, and I am never going back- my apologies to my abandoned double points.
I also cast on for another pair of socks today. The call of the Socks that Rock was more than I could resist. I know, I know, should be working on my vest for the fashion show on Thurs., but I couldn't knit that during church! Socks are the perfect church knitting item.
And just so you know, the vest is 75% done. In just a few rows I will cast off stitches for the arm holes. Yes, it will be done by Thurs. and I will get my midterms done, even if I won't be getting paid this week. It doesn't seem to make much difference to my sickly band account anyway.
I just keep telling myself, it's OK. In 5 months, I will, for the first time in nearly 6 years, no longer be the one making the money to support this family, and seeing as I don't seem to be very good at it, I am very much looking forward to passing that responsibility on to the Duke and becoming "the student" of the family.