I knew my blog birthday was this month, but I didn't know which day. Well, I missed it, it was the 8th. I'm pleading sick. Anyway, this of course means that I will be giving away a cool birthday present to someone. I like it, it's like the Philippines. In the Philippines they throw themselves a party on their birthday, cook for everyone, and may even give out small presents to their guests. Oh, and no one brings birthday presents for the birthday person, but they love Americans because we always do anyway.
Anyway, more about that later. . . (ah suspense.)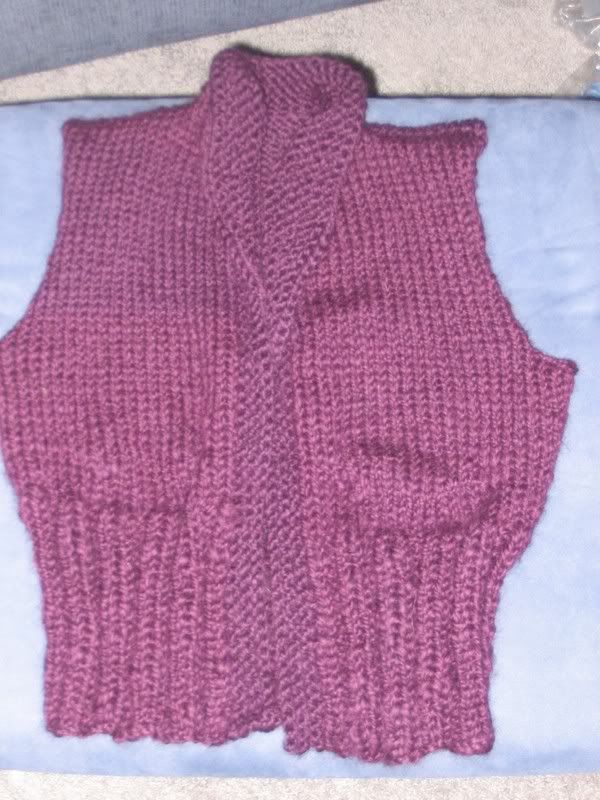 So the fruits of my down time. . .
The Purple Darts Vest
This is my design, but I'm not really planning on writing it up.
So why Purple Darts? Strange though it is (it actually sounds like something my older brother would have called on of his more smelly gaseous discharges,) there is a reason for the name.
First, it's purple: Rowan's Chunky Print (now sadly discontinued- from the stash) in color "tart."
Secondly, it has bust darts in it.
I have on occasion recommended
this website
to people who have wanted to put bust darts in their sweaters. I have never, however, used it myself, so I wanted to know how it worked.
It works like a charm. Just plug in the appropriate numbers. The only one I didn't understand is "shorten bust darts by ___." I just left it what was recommended and it worked great. (Thanks Lucia!)
If I were going to add bust darts to another sweater, I would use it, but I think I like alternate methods of shaping, simply because the bulge created by the darts makes the sweater look funny when I'm not wearing it. Maybe also because it reminds me that despite being only 27 my gals are just not the perky type. The darts sadly reminded me of where they lie in relationship to my armpits. But enough about my bodily insecurities (besides the Duke has promised me a "makevoer" in return for nursing each of our children for 1 month - yes, only 1 month, I am totally freaked out by the whole idea of a child sucking on me.)
And moving on (I know a little too late.)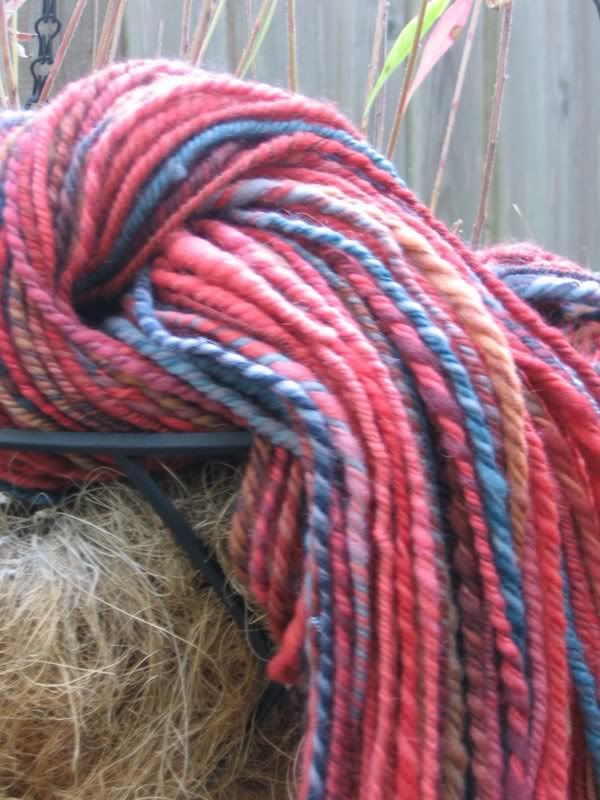 My latest handspun, which I am very proud of. With explanation from
Sarah
, and inspiration from the
Yarn Harlot
, I tried my hand at Navajo plying. It is really cool. I love that you don't have a couple (or several) yards of singles left on one bobbin after plying and that you don't have to spin singles onto multiple bobbins before you ply.
I can't wait to see how it knits up.