Maya was very excited. She got a new winter outfit for the occasion.

She also got dropped in a neighbors back yard, got fished out with a hanger, dropped in the bushes, rescued through the fence, and then interrogated by a neighbor who thought we were trying to steal her car. Lucky for me, Maya charmed her socks off, so we were OK.

So now that we've been out and gotten in trouble it's time to start the celebration!


So here are the totally awesome gifts (if I do say so myself)




Gift #1: For the Supper Serious Paper Artist
--A selection of decorative papers, card stock and velum.
--Some cute snowflake stickers (by Hallmark) for the coming season
--Two supper old Creating Keepsakes Magazines (Dec. 03 and Jan 04 - almost vintage) At first I thought this was kinda wired, but they are brand new (except for the date) and have supper cute ideas in them. . . so I'll go with it.
-- Purple scrapbooking glitter
--Some supper yummy Sa'von de~luxe soap (in case you didn't know, I am a lover of nice soaps)
--And last but not least, a scrapper's or cardmaker's dream, a collection of 24 "Kraft Edgers" decorative scissors in a rotating holder. Hip Hip Horray!

















Gift #2: For the Do It ALL Yourself Knitter
--Three skiens of my own personal handspun, a lovely red tweed wool, abt worsted weight
-- All of the mini skiens from our Koolaid dyeing day. All of them are sock weight, 100% wool, about 440 yds.
-- The book Needled to Death by Maggie Sefton
-- A package of five mini chocolate orange scented soaps from European Soaps Ltd. (a local Seattle company.)
--And THE book, a copy of Mason Dixon Knitting by the supper fun Kay Gardiner and Ann Shayne.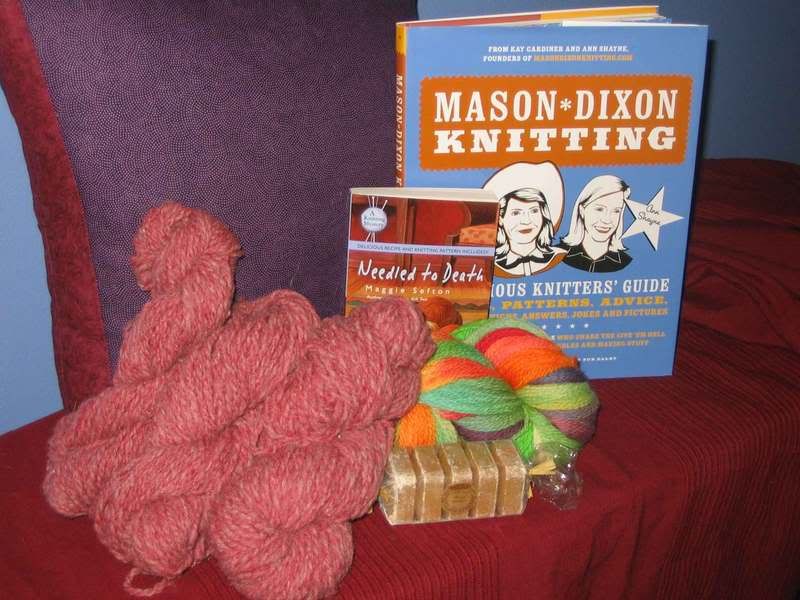 Gift #3: For the Modern Knitter on the Go
--A copy of the most current Sunset magazine (one of my favorites.)
--Two skiens of K1C2's Melange
-- Two skiens of recycled silk (not the same colorway)
-- A copy of The Time Traveler's Wife by Audrey Niffenegger
--A copy of The Feminine Mystique by Betty Friedan.
-- Some oh so lovely Sa'von de~luxe soap
-- And an island inspired knitting bag with a matching notions pouch. (For those of you who knit with me, yes it is the same one I carry- well not the exact one, it's the same bag only brand new.)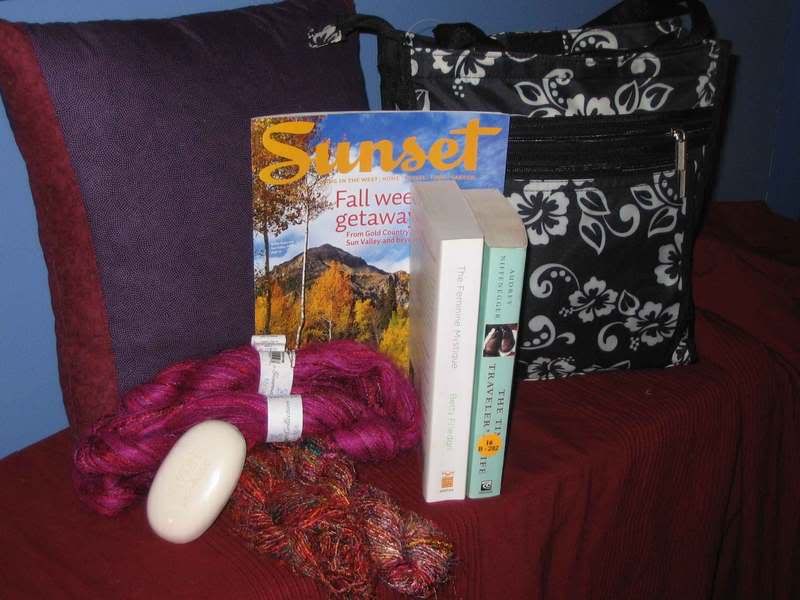 So, who will be the recipients of these lovely gifts? Well, good question. Leave me a Happy Blogger Birthday comment. This weekend I will put all the names in a hat (or some other appropriate name holding receptacle,) and draw out three names. The first person gets to pick the gift she (or he) wants, the second, and then the third. Get it. . . .good.

Happy Happy Birthday Happy Happy Birthday Happy Happy Birthday. . .